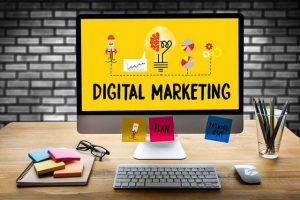 When it comes to online media there are many options right now for you to choose from. Websites, Social media, Mobile applications, etc…
But with many options available,  we face a common question. "What digital media should we choose?"
For example, if we consider social media there are loads of options to choose from. Like Facebook, Twitter, Linkedin, Youtube, Tiktok, Instagram, etc.…
With all these options, we cant invest our resources in every platform. You cant be present and continue on every platform available. So it's important to choose the most suitable options which you can approach your target market.
Start with a Website
In one of the earlier posts, I emphasized, the importance of identifying the online opportunity.
Having a professionally designed website is the most effective and basic foundation to develop a strong online presence. Having a website will give you the opportunity to develop an integrated digital marketing strategy for your business. Thanks to the innovations from various web designers and developers we can offer many interactive actions to our users. This will help us to increase our targets. By using AI you can attend to your customer requests 24/7.
You can see just how important it is these days to be online, so let's get going. The most obvious way to "go digital" is with a website. Early websites weren't much more than online brochures that described the who, what and where.
Find the Social Media that Your Audience are in
There are many individuals, Startups, and businesses who achieved success without websites. Especially with the popularity of social media like Tiktok and Facebook, you can target your audience effectively.
There are so many influencers who earn unbelievable amounts of revenue thanks to these social media platforms. We witnessed in some countries how social media like Facebook and Twitter impacted the results of elections. So don't underestimate the power of social media. Use it wisely for your advancement.
Online Business Directories
Apart from social media, there are other services offered by search engines. For example, google my business is one of the best free online business directories to publish your business details. Create an attractive profile with images, details, and directions. It will help you to land your business information when people search for similar products and services.
Join a Review Site
People tend to see other people's reviews before they make a purchase. Especially if you are in industries like foods, restaurants, and hospitality get into review sites. Interact with your customers. Reply to your customers. Appreciate their reviews and provide feedback. Following are a few best review sites available right now.
Develop a Mobile App
Mobile Apps can be a great way to interact with your customers. But it will depend on your business. For example, fast food services like Dominos and Pizzahut are using mobile apps to deliver more convenient services to their customers. And it will also help customers to place their orders and get to know more about campaign information, etc…
Conclusion
To reach our potential audience it's important to build the right online presence in order to achieve our business objectives. There are so many ways to start. The basic option is to launch your own website. If you need a professional web design service our team can help you.
Other than that you can use Social media, review sites, online business directories, and mobile apps to make your business more available online. Always try to use these platforms for your benefit.
In which way do you think is the best one to start? Need any assistance regarding your digital marketing strategy? Reach us using the following form.
There are many skills that can help you in the digital marketing industry.  Check this post to know which skills can help you to reach your digital marketing goals.