Setting up Google Analytics is one of the most important things in digital marketing. In order to track your Web/App visitors, you need to know how to set up google analytics correctly.
Identifying your user behavior is necessary to make improvements. There are both free and paid versions of google analytics. If you have a small or medium business free version is more than enough to work with.
So we will explain to you the installation process of google analytics step by step. Actually, you can start setting up google analytics while looking at the instructions on this page.
What is Google Analytics?
Google Analytics is a web and app analytics platform offered by Google. It is mainly focused on identifying web traffic and visitor behavior. Google launched this service in 2005
What is Universal Analytics?
Universal Analytics is the earlier version of Google analytics. But for the last few years, Google emphasized the importance of shifting to GA4 property.
As of October 14, 2020, when you create a google analytics account your default property would be a Google Analytics 4 (GA 4).
Recently Google announced that Universal Analytics will no longer process new data beginning July 1, 2023.

What is Google Analytics 4 (GA4)?
Google Analytics 4 or GA 4 is the latest version of google analytics. Which is more advanced with AI data raptors and insights. If you created a Google analytics property after October 14, 2020, your default property is GA4.
It is safe to say that Google Analytics 4 is the future of analytics. GA4 gets regular upgrades. So if you are creating a new Google analytics, focused on investing more time in GA4.
How to set up Google Analytics?
Step1 – Login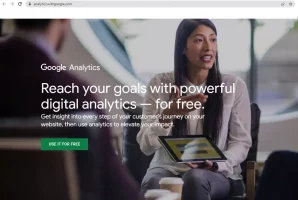 To login to google analytics you only need to have a Gmail account. That is it. It is not necessary to own a website or a mobile app to register with Google Analytics. You can become an analytics expert just by using the Google Analytics Demo account.
So login to google.com/analytics/. Select the "Get Started Today" button. You will be directed to the Welcome page of Google Analytics.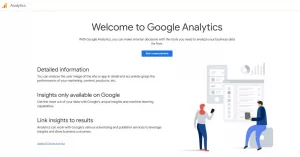 Here you can read the basic information about Google Analytics. Then click "start measurement"
Step2 – Account Setting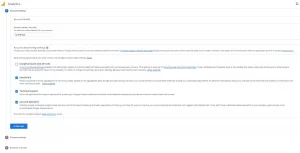 Then you will direct to the first step of your google analytics account creation.
On this page, you can see there are three settings sections (Account Settings, Property Settings, Business Overview) to fill in your details.
Account Settings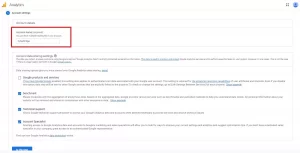 Google Analytics Account is considered at the upper level of the hierarchy. Remember it like this.
Let's say you have a business. Under that business, there are few websites. But all those websites belong to one company.
So your company name will be the account name. Under that account, you can create separate properties for different websites. There is one more section called "Views". We will explain more about these things in the coming weeks.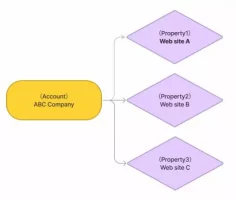 What are Google Analytics Account data sharing settings?
And then read the next information carefully. We recommend you to "opt-in" to each service. As a Google Analytics user, this gives you a chance to access additional data.
For example, if you opt in to "benchmark", you have access to the same industry data. You can compare how your website is performing with other websites which offer the same services and products.
Enter your preferred name as the Account Name.
Property Settings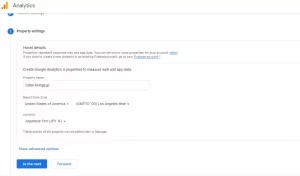 Property means your website. If you have a website enter your website URL or the title to identify it easily.
If you don't have a website don't worry. Enter any name you want. We will guide you through "How to set up a Google Analytics Demo Account?" in the next article.
Then enter your Time Zone and the currency information.
If you finished entering those details head to the next step.
Business Overview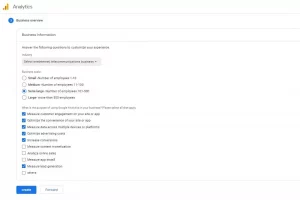 In this section, you will have to enter the details of your business.
First, select the industry that your business belongs to. Then enter the scale/size of your company.
Next, clearly mention your purposes for using Google Analytics. By setting up your intentions Google Analytics can deliver the most relevant and personalized analytics to you.
Then you will be prompt with the agreement of Google Analytics Terms of Service.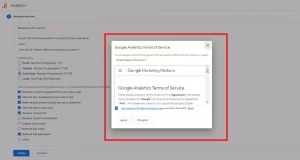 Agree to the terms and conditions.
Step3 – Wellcome to the Universal Analytics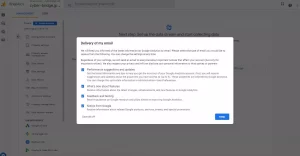 Now we have set up the Google Analytics account. From here you have only a few steps.
On the next page, you will see an email subscription popup window. If you are a person who would like to know more about Google Analytics it is recommended to subscribe to the Google Analytics mailing list.
Whether you opt-in or not, Google will send you emails about important notices that affect your account.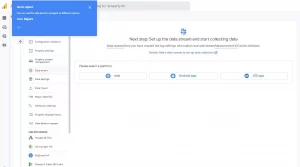 After you subscribed you can see a help menu. This will show you the instructions on how to navigate the Google Analytics window. If you don't have a website your work is finished. You set up the Google Analytics GA4 property.
Step4 – How to Setup the Google Analytics Tag?
If you have a website or an App read this on how to set up the tag correctly. Google Analytics tag is commonly known as Global tag or gtag.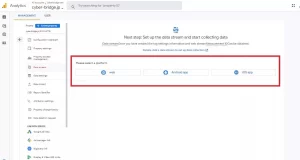 Select web as your data stream to get the Google Analytics tag. Datastream is the source that you want to analyze.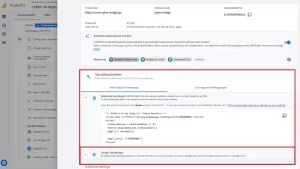 There are several ways to implement the Google analytics tag into your website.
If you are using Google Tag Manager you can copy the tracking ID and implement the tag using Tag Manager. Actually, it is the easiest way to implement this tag.
If you have a website designed by a third-party company or a designer you can mail the tag to them.
Remember to place the Google Analytics tag (global site tag / gtag.js) into the <head> section.
Now you are all set to track your web traffic.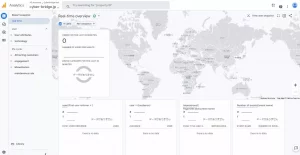 This is how it looks after you set up Google Analytics correctly. You can see realtime
Summary
Google Analytics is a free analytics tool offered by Google. It provides behavioral analytics and insights about your website users.
By knowing these data, we can make profitable decisions and make improvements to our website.
By reading this article you can set up Google Analytics for your business. If you don't have a website, don't worry. You can also set up GA.
In the next article, we will explain how to set up and use the Google Analytics demo.
Google regularly releases GA4 updates. The goals migration tool is the newest tool for importing your Universal Analytics goals to Google Analytics 4. Check this to know how to migrate eligible goals usefully.