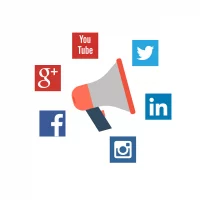 Do you remember the yellow pages book? If you are a person who was born after the year 2000 I don't think you know about it.
If I tell you to advertise in a telephone directory which publishes annually, you will definitely think that "this guy is crazy". You may think "This person is old". I`m still in my younger years, which is my mid-thirties.
But to tell you the truth I started my sales career as a sales officer for Yellow pages company which operated in South Asia. I had to achieve company-given revenue and customer targets. Which I did. It was a Business to Business print advertising option. But there were many users (especially older demographics) who turned to Yellowpages to find products and services.
With time I noticed many companies and individual business owners are shifting into digital advertising options. With the popularity of digital media, to find products and services Generation X, Y, or Z pick up anything but their phone.
So I changed my career from sales to marketing, and from marketing to digital marketing.
In this article, I will discuss, as a business, why you should focus on investing in social media advertising.
Enhance your Brand Awareness (Product & Services)
  This doesn't mean limited to brands. We can use SNS advertising to spread the word about our products and services.
Social media advertising is a part of social media marketing. For example, the average time a user spends on Facebook monthly is around 19.5 hours. This means we spend almost a day on Facebook every month.
Because of the user data collected by these social media, they provide various targeting options to target our potential customers.
Compared to other digital advertising options such as GoogleAds, social media advertising is cheaper. Almost every social media platform provides a Brand Awareness campaign.
Due to all these reasons, we can easily spread the word about our brands, products, and services.
Better Rankings in Search engine
In our previous articles, we explained to you the importance of having a high rank in search engine ranking pages (SERP). The best way to get a higher rank is to optimize your website using SEO.
But when you use social media advertising to land on your website it will bring you more and more traffic. Having more traffic will enhance your ranking. Don't forget with proper targeting those who click and visit your website are the most relevant/potential customers to your business.
Targeting options
Social media platforms collect so much personal data from their users. Hence they have many valuable options when it comes to detailed targeting. You can schedule your ads to display based on their gender, age, location, interest, behavior, interests, device types use, etc…
This is one of the main benefits social media advertising offers compared to other traditional advertising channels.
But we need to remember that depending on the digit social media platform, the targeting options may change.
For example, Facebook provides one of the best targeting options available in the industry. While Twitter advertising can target keywords and hashtags better.
Following is the targeting window of Facebook ads.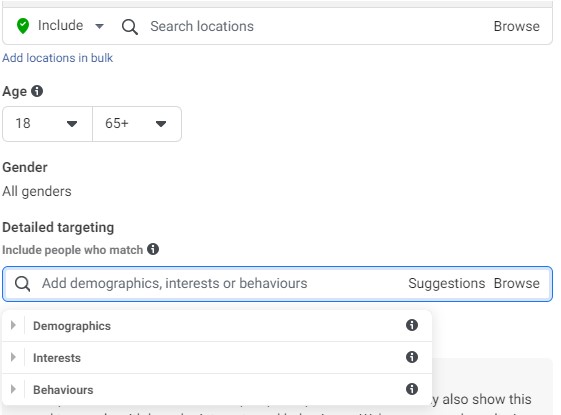 Summary
Investing your money in social media platforms to promote your business is simply called Social Media advertising.
There are many social media platforms to choose from. To select your ad campaign you need to first focus on your ad campaign objectives and which kind of audience you are targeting.
There are so many benefits of social media advertising. It's way cheaper than search engine advertising and provides more detailed targeting options. Following the best practices of social media, advertising is a good way to increase your chances of success.
If you need professional advice to create and execute a social media advertising strategy, please contact us at CyberBridge.
Let us know what you think about social media advertising. Leave a comment below and we will get back to you if you need any clarification.
See you in the next blog post.