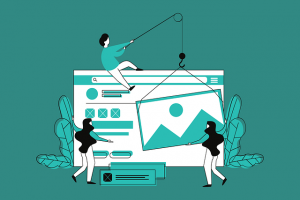 Before designing your website, did you plan your Call-To-Actions? Many businesses and organizations spend loads of money on web development without even spending a minute to decide their Call to Action.
Digital marketing has changed the way we design and develop a website. Back in the 2000s, it was always about establishing your presence on the internet.
But with time, competition increased and targeting potential audiences got challenging. So, developers and marketers came up with more creative and effective ways to engage target markets.
According to an article published by Unbounce, "90 percent of visitors who read your headline will also read your CTA copy"
So let's go through the most important 3 things about Call-To-Action.
The objective of a Home Page  / Landing Page
Why do you spend money on developing a website? What is the whole objective behind having a website? If you have answers to these questions, your marketing strategy would be profitable.
The objective of having a website or a landing page is to convince visitors to dig deeper into your websites' different sections. We need website users to take actions that can lead them to become our customers.
We need to lead our customers through different sections depending on their needs. We should encourage them to purchase our products and services. In order to do this, we need to come up with an effective CTA strategy.
What is Call-To-Action or CTA?
CTA, Call To Action is a Text, link, Hyperlink, Button, etc… which encourages customers to take desired actions. These will help you to convert website visitors into leads.
Usually, CTAs are used in both the home pages and landing pages. CTA will let customers know what to do next. How many times have we closed web pages without knowing what to do?
Having well-planned and distributed CTAs through your website will help you to generate more and more leads.
Following is one of the landing pages used by Hubspot. They used four different call-to-actions here (Same action name).
Importance of Call To Action
As I mentioned earlier, when a user visits your website or landing page, it's really important to keep them informed about what to do next.
Having a call to action will help us to keep the user engaged, and along the way, you can build a customer database or an email database through the leads you get.
Depending on the objective of your website or landing page, you have to design your call to action accordingly.
Following are a few examples of objectives and how to use CTA's.
Lead generation – "Sign Up", "Contact an Agent",
Generate Sales – "Buy Now", "Add to Cart", "Check Out"
Brand Awareness – "Read More", "Sign Up for Newsletter"
Summary
It's simple. Never forget the importance of a Call To Action. Having multiple calls to action will help you to generate more leads and achieve your marketing goals.
By placing the right, CTA will direct customers to take the next steps. CTA should be a benefit offering for your customer. That way, they will be more likely to take the actions you want.
Depending on the objective of your website or landing page, CTA can be different. So think about the relevance and the creativity before deciding on your CTAs.
At CyberBridge our marketing team and designers will create the perfect landing page or website which you always wanted.
Don't stop here. Read other related posts about landing pages and digital marketing to keep you updated.
We have the Digital Marketing Best Practices Series, specially designed for you.
Leave your thoughts below and we will reply. Let's meet in the next article.