We are reaching the end of Universal Analytics. So It is high time to migrate to Google Analytics 4. For most people, it takes time to get used to a new version.
If you are already started using GA4, you might notice that it's not the same as UA. According to an e-mail from Google Analytics, on July 1, 2023, universal Analytics properties will stop processing new data. Therefore set up your Google analytics 4 property now.
If you don't know how to set up the GA4, read this guide.
In this article, we will guide you through the process of migrating your already setup Universal Analytics Goals to Google Analytics 4.
Universal Analytics Goals vs Google Analytics 4 Conversion Events
Before getting into the migration let's clear something up.
In universal analytics, we have the option to set up goals. Goals are the objectives that you want to accomplish with your website or App. It could be a purchase or it could be submitting a contact form. These goals are different from business to business.
But In Goggle Analytics 4 you can not set up or view goals. In GA4 you can track similar actions (Goals) by setting up conversion events.
Therefore Google has provided us with a migration tool to migrate your existing Universal Analytics Goals to Google Analytics. Those goals can be visible under "Conversion Events".
Now you know about goals and conversion events. let's get down to the business.
Always remember goals or conversion are the actions that determine your business success. So when setting up or migrating your goals remember to set up those actions that matter.
How to Use Goals Migration Tools? [UA→GA4]
Step 1 – Open Admin panel
I will walk you through the goal migration process. First, open Google Analytics and then click the admin panel.
Step 2 – Selecting the GA4 Property
For some companies, there might be few accounts and few properties. So if you have a few accounts make sure to select the right account you want.
Then select the Google Analytics 4 property you desired. Check the following example image. In our case, we have one Universal Analytics property and one Google Analytics 4 property. So we selected the GA4 property.
Step 3 – Using GA4 Setup Assistant
When you select the Google Analytics 4 property, you can see the Setup assistant. Click it. Set up assistant will guide you through the rest of the process.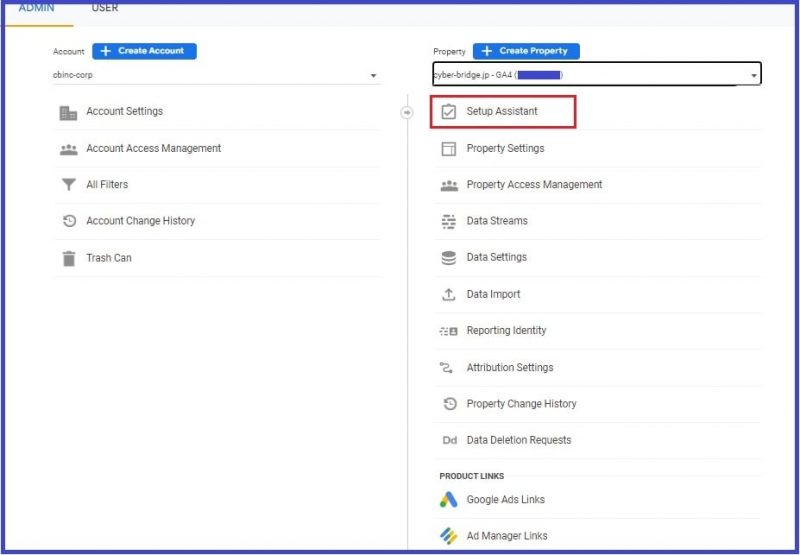 In setup assistant, we can find all the information and options we want to set up the Google Analytics 4.
This is what it looks like.
Step 4 – GA4 Conversion setup panel
In Setup assistant, scroll down to the conversion section. In this section, we can set up new conversions, and implement e-commerce measurements and import goals from UA4.
So here select the "Import existing goals from your connected Universal Analytics property" and click the "Get started".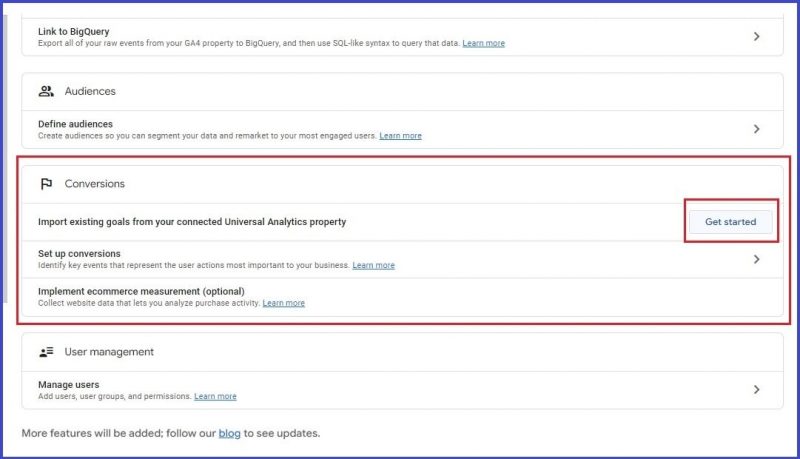 Step 5 – Importing goals from Universal Analytics
Here we can see all the goals that you have in Universal Analytics. Select the goals that you want to track in Google Analytics 4 and click the "import selected conversions". You can only track 30 conversion events per one Google Analytics property. So we recommend you select the goals that are important.
For example, you may have previous goals that were set up for last year's seasonal offer. So there is no need to track those in GA4.
If you want you can change the GA4 conversion event name.
There are set of eligible goals that can be migrated to Google Analytics 4. Event goals and Destination goals can be imported to GA4.
Goals like smart, Pages/Screens per session, and duration goals cant be automatically migrated using this tool. Those goals won't paper in these migration tools.
Well, that's it. You successfully imported Universal Analytics goals to Google analytics.
Let's check the imported conversion events.
Step 6 – Checking the migrated goals
After finishing importing the selected goals, a confirmation message can be seen in the bottom left screen of your screen.
To check the imported goals in Google Analytics 4 follow these steps.
Open the Google Analytics
Open to the Configure panel
Select the Conversions tab.
Here you can check all the imported goals from Universal Analytics.

Summary
Google Analytics 4 is replacing Universal analytics. So we should shift to GA4 as soon as possible. Google recently introduced a Goals migration tool. From this tool, we can automatically import eligible goals we want to track from Universal Analytics to Google Analytics 4.
Follow this step-by-step guide to learn how to use the Google Analytics goals migration tool.
If you want any assistance with digital marketing campaigns or implementing google analytics for your business, reach us. We will contact you in no time.