It does not matter how great your product or service is if you don't have the right advertising channel to market your business. Google search ads will be the perfect answer for your burning questions.
There are many ways to advertise a business. And also we know sometimes it is hard to decide which advertising channel to select. It could be a traditional advertising channel or a digital advertising channel.
All you Need To Know About Google Search Ads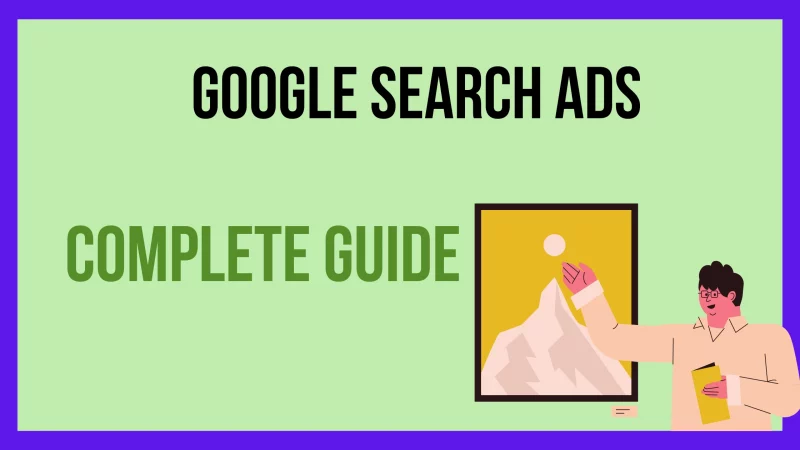 How about if I say, You have an online advertising channel with 8:1 return on investment (ROI).
Well, Google ads
Yes, being able to keep their monopoly for many years, Google managed to achieve that kind of success. Google has a 92.47 percent market share as of June 2021.
Google Ads has a few variations of ad campaigns attached to its advertising platform. In this complete guide, you will find all the information about Google search Ads. Google search ads are also referred to as Google listing Ads or Google Text Ads.
In this article, we will also guide you through how to set up a Google Search ad campaign from A to Z.
What is Google Ads? (King of the Pay Per Click Ads)
Google Ads, which is previously known as Google Adwords, and Google AdWords Express is an online advertising platform, based on the pay-per-click model that is developed and maintained by Google.
Google Ads, allows its advertisers to create custom or smart paid ad campaigns and place ads where the audience is most likely to be found. Google Ads can be used both as display or text-based search ads.
PPC ads became popular among advertisers due to various reasons. From cost to results and to analytical data, Google ads provide vast benefits to its advertisers.
Google listing ad (google search ad) is one of the most popular pay-per-click ad types available online.
Benefits of Google Ads
Having the monopoly of the search engine market, Google ad is arguably the best platform available for online advertising.
Businesses use Google Ads for various objectives. Following are a few examples of Google ads objectives.
If you are a shop owner who wants to get more customer visits to your local store, you can select the "Local" ad campaign. If you want to show your ads to interested customers at the right time you can choose the "Search" ad campaign. Likewise, there are plenty of campaign types to choose from.
Have a look at the following statistics to make sure that you are selecting the best online platform for your business.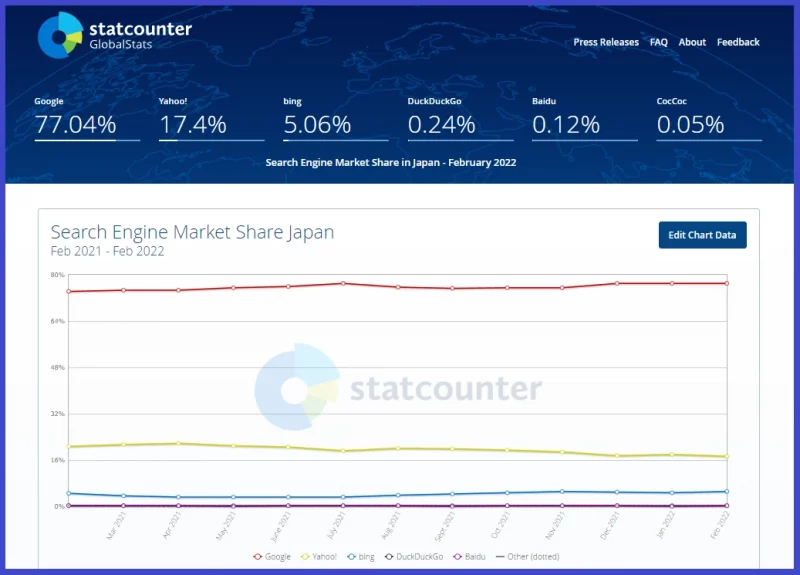 According to Statcounter, as of February 2022, Google holds 77.04% of the search engine market share in Japan. And this number is expected to grow over time.
What is Google Search Ads?
Google search ads are pay-per-click ads. Search ads (usually these are text ads) are appearing on the search engine results page above the organic results. Google search ads let their advertisers show their information to the customers when they search for relevant products and services.
Depending on the search query, SERP results will vary. But generally, it contains two types of results.
Organic Search Results
When a search engine shows your website in search results without the help of paid ad campaigns it is called organic search results. Optimizing your websites to rank in organic search is called Search Engine Optimization (SEO).
Paid Search Results
Google search ads belong to this category. When we spend money on google ads to show our specific business information, it is referred to as Paid search results
Google search ads allow you to place your business listings on google search results and other partnered networks. These ads are usually text ads. The best thing about Google search ads is when a customer searches for a product or service that's similar to what you are offering, you can show them your ads.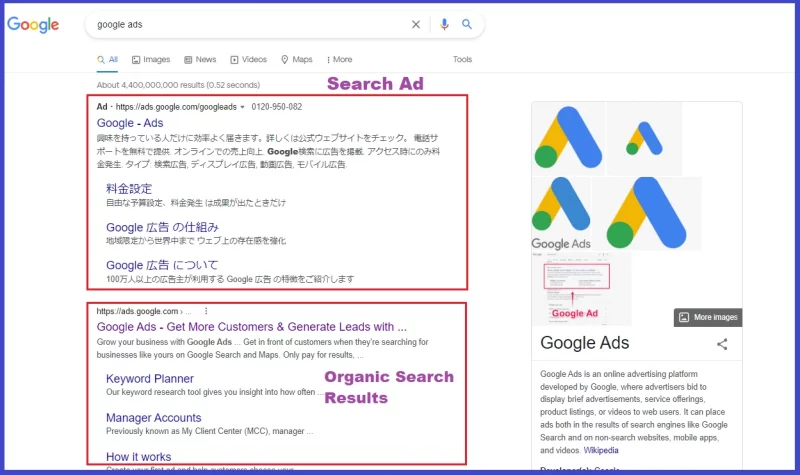 Have a look at the above example. When I searched "Google Ads" on google, I got the following results. This page consists of Google Search ads (Listing ads) ads and organic search results.
Google listing Ads, Google Text Ads, or Google Search Ads
To advance from here, we need to clarify something. If you check other resources and blogs you can see there are different definitions for google search ads.
Especially on Japanese blogs, it is referred to as listing Ads. But on many foreign websites, it is referred to as "Search Ads". But according to Google Ads official resources, there are only three main ad types.
Google Display Network Ad Campaigns: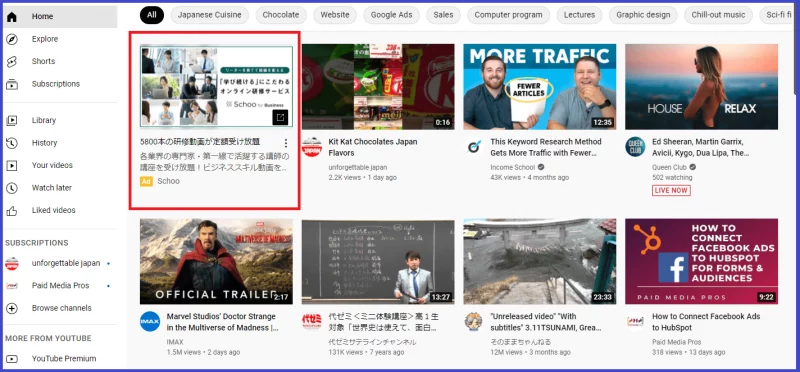 These ads will appear across more than 2 million websites available in the Google Display network. These are usually Image type Ads. Google Display Network has the ability to reach more than 90% of online customers.
Google Video Ad Campaigns :
If you are a committed fan of Youtube like me, just try to remember how many ads you have to watch on Youtube.
Google video campaigns play on Youtube content right before starting and during the content playing. These ads are usually 6 to 15 minutes long and you can watch the entire ad or skip the ad after a predetermined time.
Google Search Network Ad Campaigns :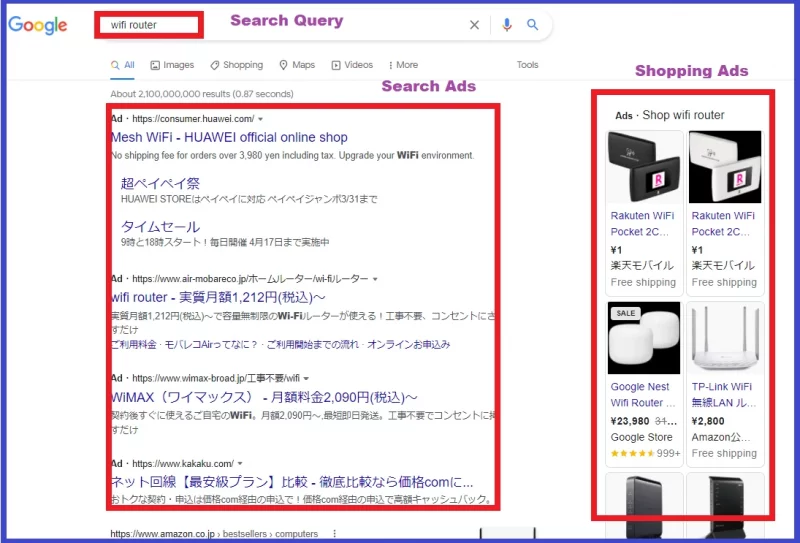 Google Search Network is a collection of search-based websites and apps including Google search. Your text/listings ads will appear in search results. Depending on your Google ad bidding and other relevant factors, Google will decide where to place your search ads. It could be at the top of the search results or below the search results.
We mentioned that Google processes more than 63,000 searches per second. You can show your ads when a customer searches for something similar to your products and services.
This is the topic of today's article. Depending on our research we concluded that many are referring to these ads as listing ads and search ads.
So now on we will mention these types of ads as Google Search Ads or Google listing ads.
Benefits of Google Search Ads
Now you know what search ads are. There are other types of ad campaigns available also. But as a business owner, you need to know why you should invest in google search Ads.
So we listed three benefits of google search ads to let you know why you need google search ad campaigns for your business promotions.
Target your potential customers by placing search ads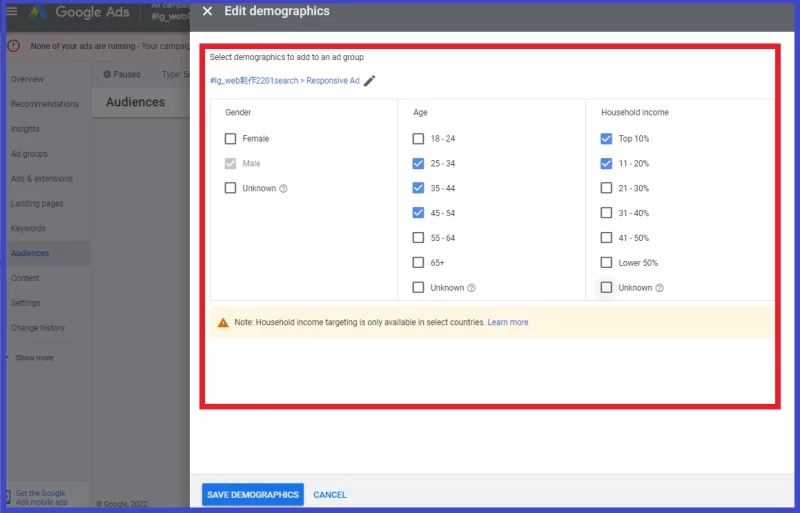 Google search ads provide you with various targeting options to target the exact customer you want. This helps us to reach the users who are interested in our products and services at the right time.
Keyword research and targeting
Keywords are the words or phrases that your potential customers are using to search for. By providing exact keywords that are relevant to your products and service, you can target the customers with the right intent to take profitable action.
And also don't forget you can ask to block those who search for something that you don't offer by providing negative keywords.
Demographic Factors (Age, location, Language, etc…)
Depending on the personas of your customers, select which age group they belong to, which location they live, which gender they belong to, and which language they use.
Devices Use
Sometimes advertisers want to target only those who use specific digital devices like (Mobile, Tablet, and desktops). Google search ad campaigns provide the device targeting option.
Decide Your Budget and Control Your Budget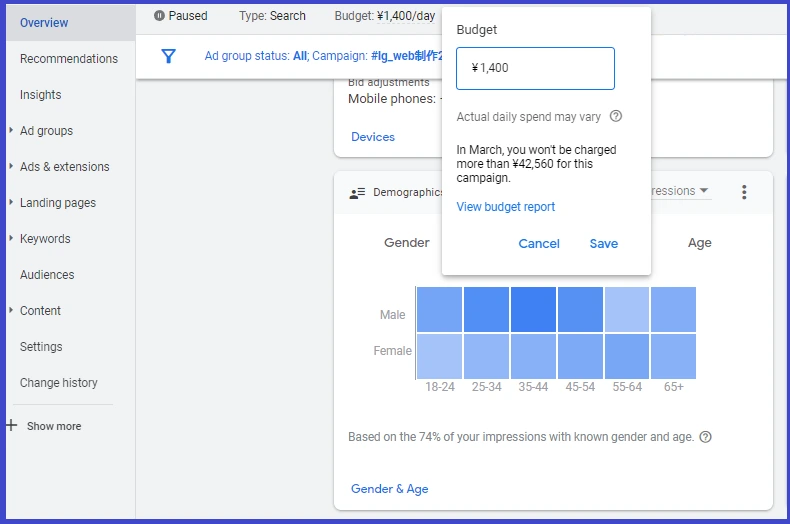 In the pay-per-click advertising model, you only pay when someone clicks on your ad. You can decide how much you are going to spend for a day, There is no minimum spending limit. let's be honest you can't expect to get results if you spend only ¥100 per day. But it means you are the one who controls your budget. You don't need to be super-rich to use google search ads.
You can increase or decrease your bids for keywords and you can place higher bids to rank top of the page. If you have a higher quality score you will pay a lower amount for top place.
Measure and Make Improvements to Your Search Ad Campaigns

Google ads provide you with the ability to track your search ad campaigns results in real-time. By linking Google Ads to Google Analytics you can get more detailed information.
The importance of these data is playing an integral part in decision making. Let's say you see your daily volumes of clicks suddenly dropping. Then you can analyze the data. Is it happening only on specific dates like on weekends? Or is it happening only during a specific time, like from midnight to morning? Then you can stop your ads from playing during those times and days.
These are only 3 main benefits you get by investing in google listing ads.
Three Types of Google search Ads
According to Google, there are three types of google text ads. When creating a campaign we need to select which types of ads we are going to use.
Expanded Text Ads – ETAs

Image Courtesy: Google Support
Expanded Text ads are earlier referred to as Standard Text Ads. Standard Text Ads (STA) have strict text limits. Therefore to add more room to display your message Google made a few changes and introduced the ETA ad format.
Expanded Text Ads have three headlines fields, and two 90 characters descriptions. These ads are mobile optimized and you can check the preview on your Google Ad Account.
Google continuously pushed the importance of automatic ad formats over the last few years. As a result of that starting from June 30, 2022, you will no longer be able to create or edit Expanded Text Ads. So it is time to move on from this listing ad type to most AI-based search ad types. Such as Responsive Search Ads and Dynamic Search Ads.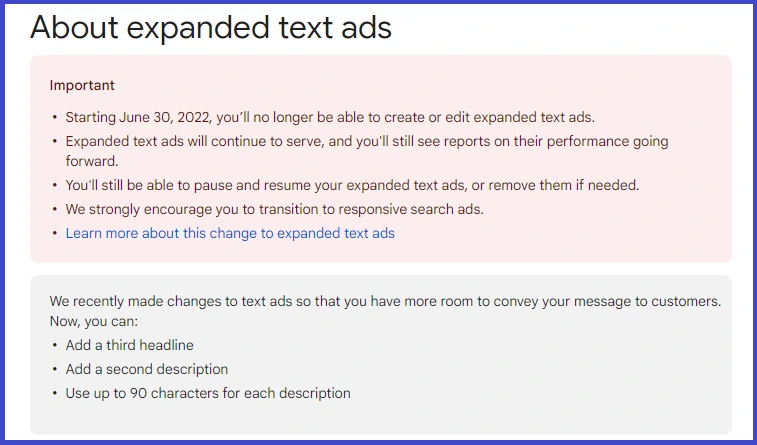 Responsive Search Ads (RSAs)
Responsive Search Ads mainly focused on providing the most suitable ads to searchers. Your potential customers use different types of devices. And their keywords are not always the same. Out of billions of searches happening every day, 16% to 20% of them are completely new.
So your regular text ad won't be able to provide the answers to the customer's questions.
For a single Responsive Search Ad, you can create up to 15 headlines and 4 descriptions. By feeding more and more details, Google has the ability to reach your potential customers with the most tempting ad.
Google will show different types of ad combinations to the customers and test them. With time and machine learning, Google will use the most effective headlines and descriptions to generate your listing ads.
Dynamic Search Ads (DSAs)
With the rapid growth of Google's Artificial Intelligence, now you have the opportunity to show automatically-generated ads to your potential customers.
When you add a creative description with targeted keywords, Google will use your website (Final URL) content to generate the landing pages and the headline of the listing ad.
But Dynamic Search Ads will only produce results for well-developed websites.
For example, this ad format will use your HTML title in order to generate your headlines. So if you have poorly designed content and completely unrelated titles you will not get the results you expect.
Google Search Ads Best Practices
Google search ads best Practices are focused on achieving the ultimate results. You can reach the highest ROI you are expecting by creating your google search ad campaigns according to these practices.
At CyberBridge we have nearly 10 years of experience in online advertising. Over the years we have worked with many customers and gained relevant experience in optimizing google listing ad campaigns.
So we would like to share a few of those best practices with you.
Keyword Research for Google Search Ads
From time to time we have explained why you need to do keyword research for your business. No matter the scale of your business, when you have a carefully selected keyword list that your potential customers are searching for, consider you achieved 50% of your marketing strategy.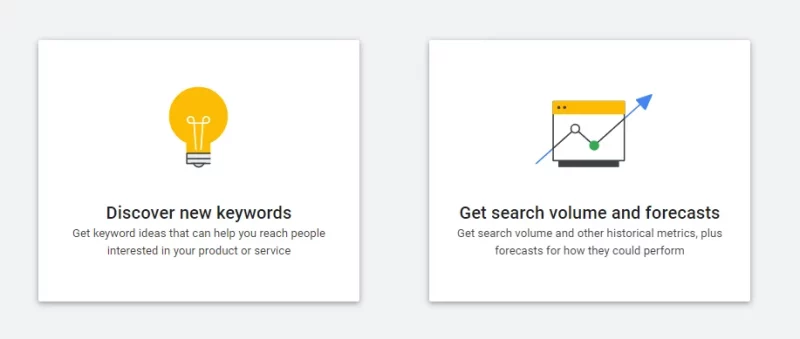 Finding the right keywords that match your business Objectives
In this regard, Google advises us to think "Holistically" about how our potential customers can reach us. If you have a physical store or experience of selling your products or services try to remember how customers ask for your products. What words or phrases do they use to describe their requirements.
Use Google Keyword Planner to find new keywords. You can also find the search volumes for these keywords. Also, Google keyword planner will give you a forecast of how your keywords would perform.
Another great way to research keywords is to use third-party keyword research tools. Tools like Ubersuggest are affordable and provide tons of data and recommendations. Ubersuggest even provides content ideas.
Optimize your keyword list to get more from Google search ad
Let's say you have a keyword list for an existing search ad campaign. You can analyze how much web traffic every keyword is bringing to your website. If you have certain keywords in your google listing ad campaign that don't trigger any clicks, why keep them? So always try to keep around 15-20 highly performing and relevant keywords per ad group.
By opening your "search keywords" section in your Google listing ads you can check how many clicks and click-through rates you got from each keyword. Adjust the time duration from the top right side.
Here we can add, pause or remove the keywords.
Update Your Negative Keyword list for Google Listing Ads
Negative keywords are helpful if you use them correctly. Let's say you have an ad group optimized for selling "handmade carpets". This is a niche product and you need to target this ad group for a certain audience.
there are two ways to update the negative keywords list.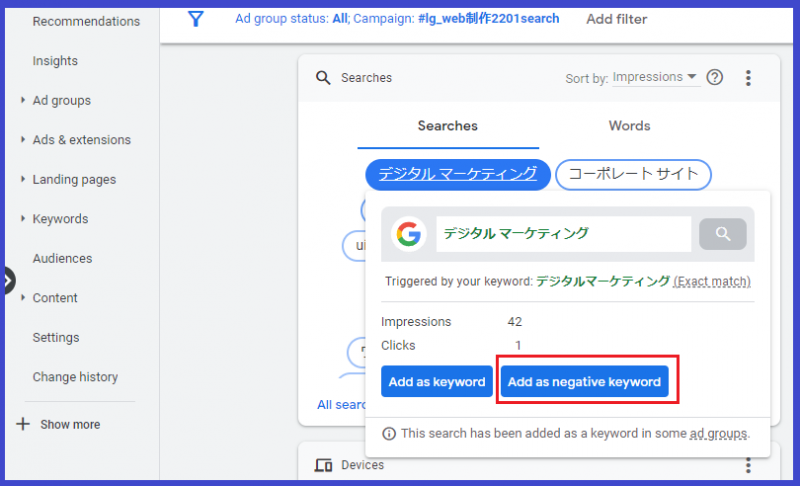 The first way is by checking the Google Ads Overview dashboard you can check what search terms and words are triggered to show your listing ad on Google search results.
If there are any other branded search terms that do not relate to your focused audience group add those search terms or words to the negative keywords list. ere we can manually update keywords.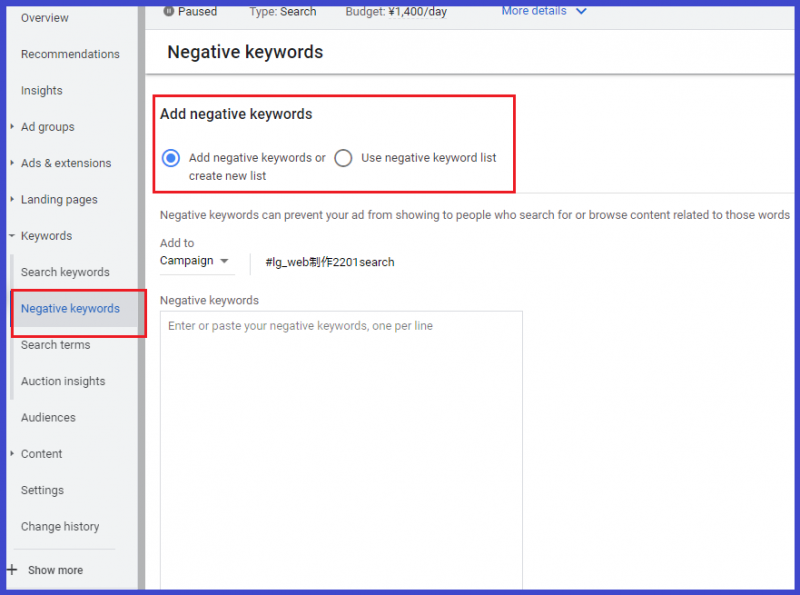 The second way is to select the "Negative Keywords" section from your left side menu. And manually update the negative keywords.
Run relevant Ads only.
According to Google Support, you can create 20,000 search ad groups per one Ad campaign. So why show irrelevant ads?
Most of the time customers and many digital marketing agencies don't focus on this factor. It will take some work and time to organize your ad groups, ad copies, and keyword lists. But remember it will generate results for your investments.
It is important to match your search ad with the searcher's intent. Make sure to write a relevant headline and ad copy. Don't forget the basics. Your search ads need to solve the searcher's intent.
Google advises you to create 3 or more quality ads per ad group to get the best results. In that way, Google can optimize your performance.
Starting from June 30, 2022, you will no longer be able to create or edit expanded text ads in your google listing ad campaigns. So focus on creating responsive search ads.
Run Dynamic Search Ads
Well if you are busy and don't have enough time for analyzing and optimizing your listing ad campaigns, Dynamic search ads would be the best option.
In this type of search ad, Google will automatically generate the ad headline and landing page to match user intent.
But in order to get results from Dynamic search ads, your website should have well-optimized web pages. If the codings and designs of your website were not done in a professional way you will not get any results from this type of listing ad.
Optimize Your Landing Pages for the Listing Ads
When a user clicks on your listing ad, google ads will direct that user to a webpage. This page is called a Landing Page. To perform a search ad campaign you need to provide the URL of your landing page.
Users will click on your search ad for various reasons. But the most important reason for them to click is that your ads headline and ad copy is matching with users' intent. So they think that your landing page has the solution to their questions.
So what happens if you do not provide solutions to those questions? There should be a relation between your search keywords, listing ad, and the landing page.
Google will consider your landing page convenient, to calculate the quality score.
According to a recent article by Hubspot, it is reported that answering buyers' fears can increase your conversion rate by 80%.
Focus on the Title, Headings, and the content of your landing page. Read the next step of this article to learn how to create a search ad campaign.
Summary
Although there are many online advertising platforms, Google provides the best platform to reach your advertising objectives.
Google search ads are appearing on google search result pages above the organic results. Search ads are usually can be identified by the "Ad" tag which appears on the left side of the advertisement.
Our CyberBridge Digital Marketing team is ready to help you get started with your search ads. Fill out the following form and send us. We will reach you in no time.
Let's achieve your 2022 business goals with Google listing ads.