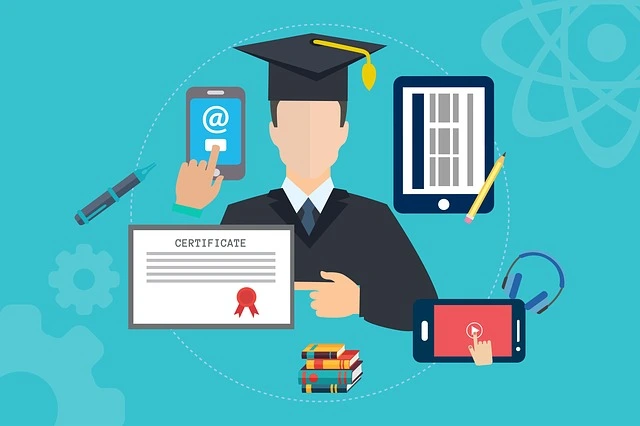 Ten years ago, when we wanted to learn something new to improve our professional careers, we only had one option. That was to enroll in an educational program which is conducted by a reputed institute.
If you were a bright student, you would have to get into a good university and get sponsorship. But for most people, it was just a dream. There weren't enough high-quality educational materials available.
Of course, you could have gone to a library or bought books and studied. But there was a problem. When you were applying for a job, every employer demanded valid certificates from educational institutes.
From traditional learning to online learning
So with the revolution of the internet and the development of online education sites, now we have immense opportunities to learn. And the best thing is there are many free resources available from reputed companies. Like Google, Coursera, Hubspot, Code Academy, Semrush, Udemy, etc…
But remember, there are many differences between someone who graduated from a university and someone who isn't. And when you enter a business world, degree holders have a higher chance of getting a job and earning more, compared to others.
But with these free professional certificate programs, you can close the gap between people who graduated from universities and other institutes. And if you have the ability to apply relevant skills practically when you are working, you can go up higher and earn more.
So following are our recommendations for free certificates if you are following a path to becoming a digital marketer.
Digital marketing skills to learn
Before getting into the program's information, let's focus on what skills you need to concentrate on developing as a digital marketer.
Web Development and designing
Content marketing
SEO (Search Engine Marketing)
PPC (Pay Per Click Advertising)
Data Analytics
Social media marketing
Email Marketing
Writing Skills
Where to find free digital marketing courses
With the current pace of development in digital marketing channels, it's hard for traditional textbook-based educational institutes to stay in the game. There are tons of free internet resources that can help any enthusiast to learn.
So these online courses will provide you with the most updated tools about digital marketing.
Fundamentals of Digital Marketing Certificate by Google
Google Digital Garage is equipped with many courses for Digital Marketing, Data & Tech, and Career Development.
These courses are designed to help your business or your career. You can learn by selecting individual modules, or dive right in and take an entire course end-to-end.
This course will help you to get the A to Z Knowledge of digital marketing. There are video explanations and follow-up questions.
This free course is offered by Google and accredited by Interactive Advertising Bureau Europe and The Open University.
This course consists of 26 modules and you can finish this course in 40 hours.
The best thing about this course is that you will get a certificate if you manage to complete it. You can attach it to your resume and share it with LinkedIn also.
How to Make a Website by "CodeAcademy"
As a digital marketing professional, you must have a basic knowledge of how a website works.
For example, if you are working for a startup company or a small-medium company where there are one or two people working in the marketing department, having web design knowledge will help you in many ways.
This free project-based course will guide you through building four simple websites using web development fundamentals, including HTML5, CSS3, and Bootstrap.
As of today, there are 1,342,718 people who completed this course. You can complete this course in 9 hours.
Content Marketing Course by HubSpot Academy
If you are a content creator, you know how frustrating it is to create relatable content on a daily basis. Content marketing is the driving factor in any marketing strategy. With time you may lose focus, and it will affect the quality standard of your content. Sometimes people think it's easy to produce content on a daily basis.
But it's not true. Producing unique high-quality content without plagiarizing is a time-consuming task.
So as digital marketers we need to have a content-producing strategy to produce effective content on a consistent basis.
This course will teach you about the content developing framework that helps you to develop content that search engines and humans adore.
SMM Fundamentals Course with Neal Schaffer by SEMRUSH
With so many billions of active users, Social Media Marketing plays a huge role in digital marketers' careers.
There are so many social media platforms and they have different advantages and disadvantages.
So this course will help you in creating a social media marketing strategy that helps you to achieve your business objectives.
This free course consists of 27 video lessons and you can finish this lesson in 4 hours.
Developing paid advertising campaigns that bring ROI for clients is one of the main duties you have as a digital marketer.
In order to develop a paid advertising strategy, you need to know what are the available tools and techniques.
This course will help you to reach your audience at every step in their buyer's journey.
This free 1-hour course consists of 5 lessons and 14 videos.
Summary
As a person who pursues a digital marketing career, it is important to be up to date and have the right qualifications.
With so many online resources available right now sometimes it's hard to choose which one to study.
In this article, we have selected five free courses by reputed industry leaders that can help you to get the right knowledge to advance your digital marketing career.
After completing these courses, you can study more courses with intermediate and more advanced knowledge. There are many great paid courses available. We will select a few of them for you to follow in the future. Don't forget to check these free icon sites if you want to design unique websites.
How do you advance in your marketing career? Share your thought and experience. If you need any assistance in web designing and digital marketing let us know.
See you in the next article. Until then stay safe.