Microsoft Clarity is one of the best web analytics tools available in the market. The best thing is that it's free.
Although it was launched nearly one year ago, the world's top institutions are already using this platform as one of their trusted analytical tools. According to clarity.microsoft.com organizations and businesses like World Health Organization, Cinemark, Steve Madden, IKEA, Pizza Hut and Forbes are already using this platform.
About Microsoft Clarity
Don't get confused. Microsoft Clarity is not the same as Google Analytics.
It is an open-source analytical tool developed by Microsoft, based on user behavioral data that you can use to identify how your website users engage with your website.
In our previous article "What is Microsoft Clarity?", We introduced the basics of Microsoft Clarity. If you missed that article click here to get the basic knowledge.
Getting Started with Microsoft Clarity
So now you know what Clarity is, in this article, we are going to guide you through the setup process of Microsoft clarity. As we told you earlier this is an easy-to-use online tool. So click here and go to the Microsoft Clarity website.
Signing Up to Microsoft Clarity
Step 01
There are two CTA buttons to click on this window. You can click any button you like.
Step 02
Then you will be prompted with a new sign-up window. There are three methods to sign up. You can use your Microsoft account, Facebook account, or Google Account.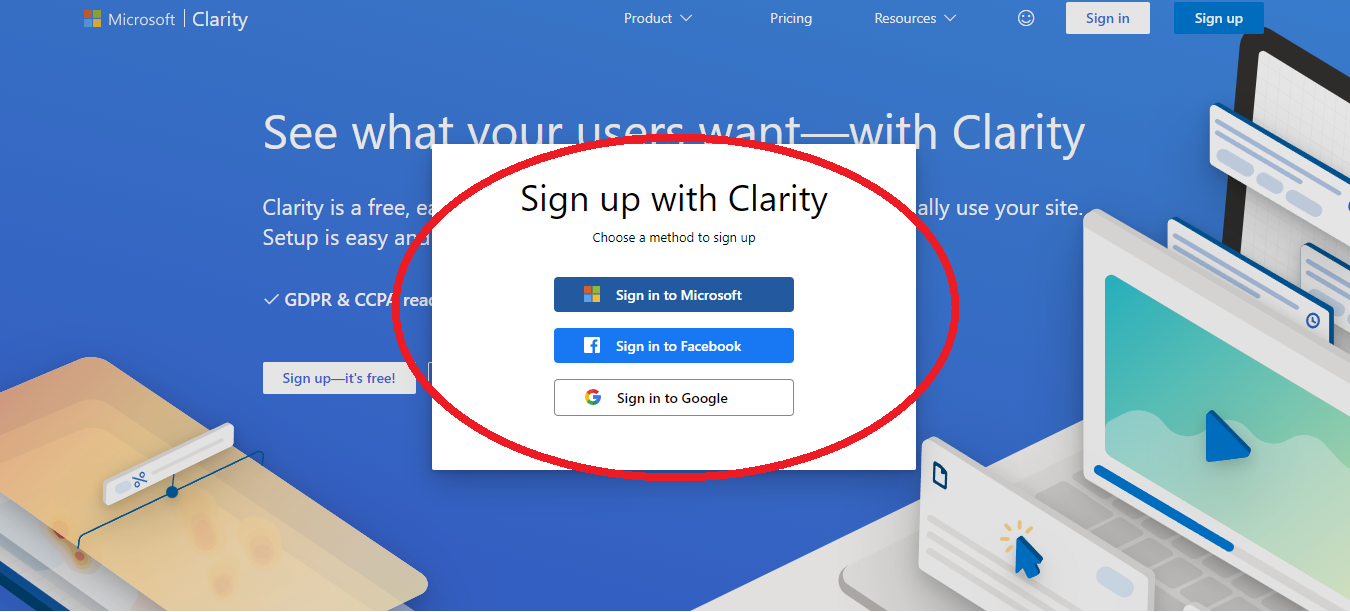 Step 03
You will have to confirm your account based on the method you selected. I used my Gmail account. I will confirm my email.
Adding your website to Microsoft Clarity
Step 04
After you successfully sign-up to the and confirm your account the next process will start.
The next step is to add your website. Which can be recognized as a "Project". You can add unlimited projects for each domain or website.
There are two buttons in this window called "+Add new project". Click one. Then you will be presented with the above popup window.
Enter your name and your website.
In the next field, you have to select which category your website belongs to. Because Microsoft does not allow you to use it on sites that contain sensitive information. Such as User healthcare, financial services, or government-related information sites.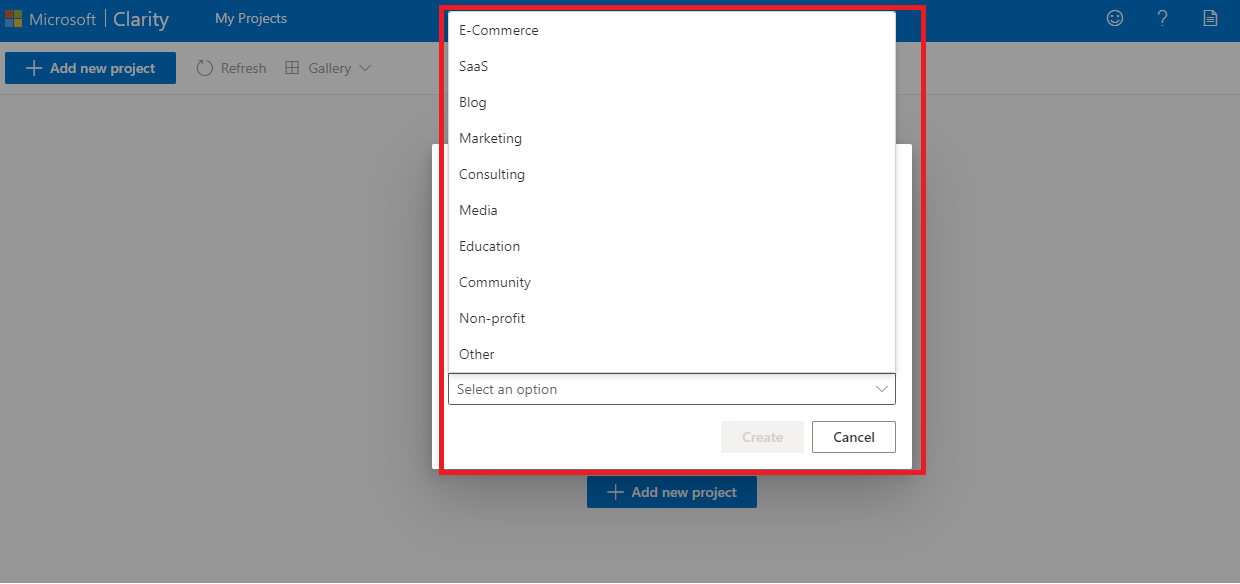 How to add Microsoft clarity Tracking Code to your website?
Step 05
After you finish setting up your project, you will be prompted with your project window. It looks like the following.
1st click the settings tab on your right upside and then select Setup from your left side.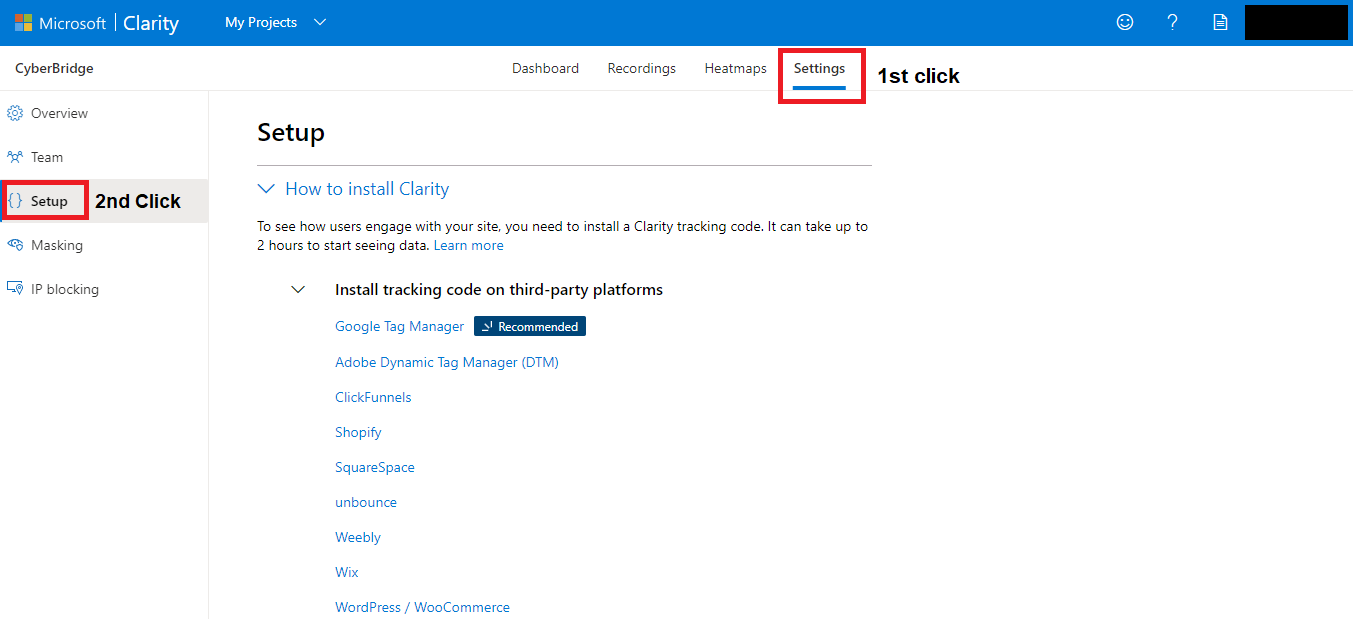 Step 06
If you see the above window you can see that Microsoft recommends you set up your tracking code using Google Tag Manager.
We will explain this in a future article about how to install your tracking code on third-party platforms. But if you select each platform from the above window Microsoft has provided you with a detailed set of instructions.
To add this tracking code to your copy this code and paste it into the <head> tag of your website. If a third party created your website, send this code to them and ask them to paste it between <head> tags.
The best thing you can do is learn how to use Google Tag Manager. In this way, you don't need to call your web designer every time you want to enter new tags. We will write about Google Tag Manager in a future article.
You can rest for thirty minutes and check your recordings or heatmaps to know whether you added your tracking code correctly or not.
Summary
In this article, we talked about how to set up Microsoft Clarity. Clarity is an open-source analytical tool launched by Microsoft.
If you like this article and want to know about how to use Clarity in a way that could benefit your business fill below form and let us know what you think. We will answer those questions in the near future.
Have a nice day and don't forget to check our other digital marketing articles.