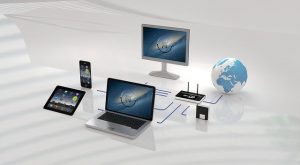 Today is World Teachers' Day. That reminds me of my teacher, who taught us web development.
A few years ago, I remembered talking with him about how a website works? Those were the days when I had to read so much technical information to understand the anatomy of a website. I didn't want to spend much time reading overly complicated technical books.
So I told him about my experience and that it was hard for me to understand this subject.
But, he gave me a great solution. He said that "Instead of simplifying, students spend time overcomplicating their subjects." The best way to learn anything is to simplify your lessons as much as possible".  Then he was kind enough to teach me about the website's process.
So today, I'm going to simply guide you through "How a Website Works?"
What Is a Website?
In one of our previous posts, "Professional Web Design" I mentioned that you should treat your website as your face. It's your online presence. Users who are interested in the same products and services that you provide will visit your website. So you need to provide relevant information about your business creatively. Otherwise, they will go to your competitor's website.
What Is the Web Server's Role?
You need a dedicated space to host your website. For example, if you need to build a house, you need land. Likewise, you need a space for your website. A server is a computer that is connected to the internet. Servers will provide this space for you. You can select your preferred package from a service provider out of thousands of companies in the market.
Your website is created with texts, images, videos, audio, and codes. When your users request different information, the server will provide them with the exact information.
What is an IP address?
"IP means "Internet Protocol." Every server or device that is connected to the internet or a local network has an IP address. An IP address is a string of characters. As humans use their languages, devices that are connected to the internet use their language too. They will find servers using this IP address.
What is a Domain Name?
The domain name or the web address acts as a link to the IP address. This is how your users find you. As a result, you should always try to choose a nice, relevant domain name for your website.
We consider the domain name to be the part after "www.". For example, our domain name is "cyber-bridge.jp" It's similar to your home address.
When devices that are connected to the internet search for your domain name, the internet will communicate with the server. Then the server will send the required information to those devices, and the browser will show your website.
Summary
There are over 1.7 billion websites. To build your website, you need to know how websites work.
A website is the face of your business on the internet. To be present on the internet, you need to host your website on a server. Your users or potential customers will find you through your web address or domain name.
Did you find this article helpful? What do you want to know more about websites? Fill out the following and let us know.
At CyberBridge, we are always ready to help you.