Many businesses lose money because of many reasons. But having an unorganized customer relationship management system will drive your company to bankruptcy.
According to thrivemyway.com, having a CRM system can increase a company's revenue by 29% also properly maintained CRM can increase conversion rates by 300%. So a result-oriented CRM will definitely help us improve our profits and cut unnecessary costs.
There are many CRM systems available to purchase. HubSpot is one of the best available Customer Relationship Management software available.
What is Hubspot?
Anyone who is interested in marketing surely knows about the Hubspot blog. They are providing a wide range of services. But their main business is providing software solutions for sales, inbound marketing, sales, and operations.
Back in 2006, Hubspot was founded by two visionary entrepreneurs, Dharmesh Shah and Brian Halligen. Although it started as a software company, within a few years it became a provider of an all-in-one solution for businesses to delight their customers.
What is Hubspot CRM?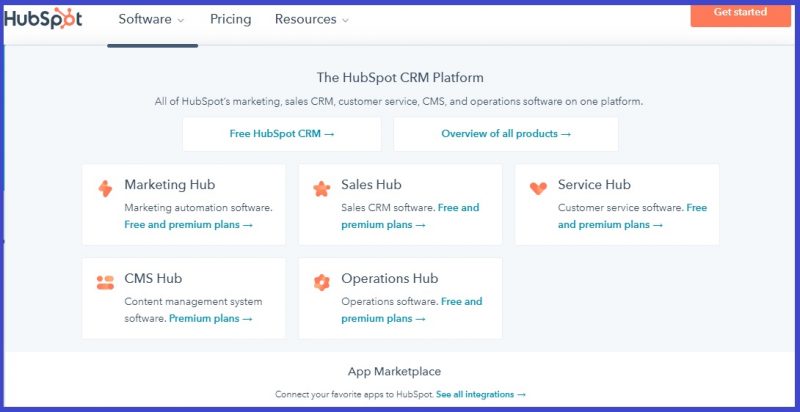 Who doesn't want to provide a delightful customer experience? Hubspot CRM is a cloud CRM platform that helps every department in your company provide excellent customer service.
Hubspot comes with powerful tools that integrate marketing, sales, service, content management system (CMS), and operations. Simply it will help you to organize your business activities to produce
Hubspot CRM software consists of the following five tools.
HubSpot Marketing Hub
HubSpot CMS
Hubspot Sales Hub
Hubspot Service Hub
HubSpot Operations Hub
Let's look into these tools one by one.
The Hubspot Marketing Hub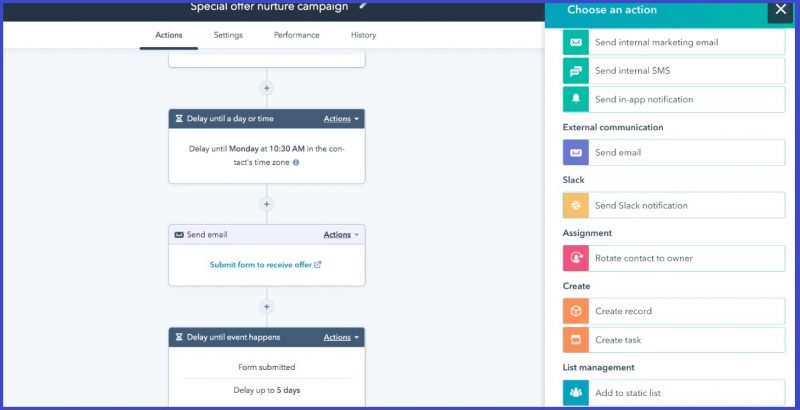 Best marketers help businesses to attract online users to their websites and turn them into prospects, then into customers, and finally into promoters. But this process is not an easy task. It usually takes time, resources, and a carefully crafted plan.
On many occasions companies waste time maintaining many tools. For example, you may use PPC advertising tools and content management systems to nurture your leads. you may have to separately use email marketing software to send emails and analyze your efforts a different analytical tools.
Businesses need to align their marketing efforts when promoting their products and services at every step of the customer journey. If your team has unorganized customer data you will definitely spend more money and recourse for your marketing effort.
By using HubSpot Marketing Hub you have the chance to access all marketing tools on one platform. This will help to provide great inbound marketing campaigns. Not only that by providing a personalized customer experience you will attract more qualified users and convert more leads.
Popular Hubspot Marketing Hub Features
Following are a few popular features you could get by using HubSpot CRM.
Landing Page Builder
Form Builder
Marketing Automation
Email marketing
Account-Based Marketing
Lead Tracking & Management
Chat Bot
Centralized paid ad campaigns
Reports & Analytical tools.
Hubspot CMS Hub
What is the point of having a website that doesn't generate leads? There is no point.
With the support of HubSpot CMS, you don't need any developers. By using Hubspot Content Management System we can build web pages instantly. The best part is that we can create web pages to give a personalized experience to different users.
In most cases, web developers don't pay much attention to the marketing effect of websites. In Hubspot, you will have the advantage of optimizing your website or page for search engines by following SEO recommendations.
Not only for marketers, HubSpot CMS can used by developers and IT teams also.
CMS Hub Popular Features
Website Themes
SEO Recommendations
Fully Integrated CRM
Drag and Drop Editor
Adaptive Testing
Contact Attribution Reporting
The HubSpot Sales Hub
Implementation of HubSpot sales hub is easy. So your team doesn't want to pay much attention to managing software. It will regulate your sales process.
In sales most important thing is to "CLOSE THE DEAL"
The sales hub will guide your sales team to close the deal more efficiently. By using reporting tools you can check the customer data. Features like live chatbots, meeting scheduling, and calls will be handled on the same platform.
Popular Hubspot Sales Hub Features
Email Templates
Email Tracking
Document Management & Tracking
Conversation Intelligence
Call Tracking
Sales Automation
HubSpot Service Hub
"Happy customer Happy Business"
HubSpot service hub provides an all-in-one toolset to provide better customer service. It will help us to deepen customer relationships and drive your customer service team efficiently.
Popular Hubspot Service Hub Features
Help desk & ticketing
Service Analytics
Team Management
SLAs
Mobile Inbox
Automated Customer Service
HubSpot Operations Hub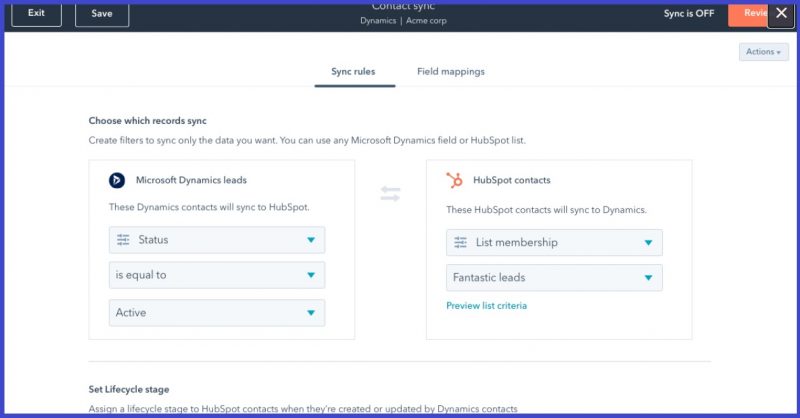 When revenues and the number of customers are growing, initial operations are also increasing. When a company has different departments they use different apps and software. This will result in wasting much time managing data.
HubSpot Operations Hub provides us with a centralized system to unify all those different apps and software. This will help any business to automate its business operations and maintain updated customer data.
Popular Hubspot Operations Hub Features
Data Sync
Data Quality Automation
Custom Properties
Summary
Hubspot CRM is a customer relationship management software. It is one of the best CRM tools available in the market today.
It has five different cloud software. Marketing Hub, Sales Hub, CMS, Operations Hub, and Service Hub.
These CRM tools will help any business to regulate its business process and provide a delightful customer experience.
CyberBridge is a Hubspot partner that can help you to implement HubSpot CRM into your business. Reach us to schedule a free discussion.