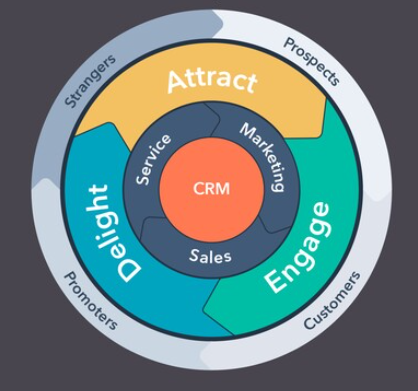 There are a few main departments in any business. In these departments, people use different kinds of tools for day-to-day tasks. It is a waste of time and other resources. Businesses spent millions of dollars on these tools. Like (MA)marketing automation, (SFA) sales force automation, and (CRM) customer relationship management.
Hubspot is one of the most popular CRM tools that unifies all the works of different departments. You can use HubSpot for, Marketing, CMS, sales, operations, and services. The benefit is any member of your organization can use this from a centralized location.
In this article, we are going to talk about the main benefits of using HubSpot for your business.
Using HubSpot as an Inbound marketing software.
HubSpot is widely considered an inbound marketing tool. With the rise of the internet, businesses became more and more focused on inbound marketing.
Inbound marketing is the method of building long-term customer relationships by creating valuable content that solves the questions your target audience has. Any business that wants to spread brand awareness, generate leads and develop customer relationships can use inbound marketing.
So by creating relevant content we are helping our potential customers to find our products and services. It's actually a long-term investment and one of the best investments you can do for your business.
By using HubSpot we can streamline and even automate this process. We can use forms and CTA features to get more leads. The social feature lets you post and schedule all your social media postings in one place.
Depending on the objective we can create landing pages without any design knowledge.
You can create and schedule PPC ad campaigns. The email feature lets you reach your marketing contacts with the right message at the right time. CRM can be accessible to anyone and approach the customers with the right message.
So HubSpot is one of the best ways to run your inbound marketing campaigns. It helps us create valuable contents to attract, engage and delight our customers.
Summary
Hubspot is one of the best inbound marketing software available in the market. There are five main tools in the HubSpot CRM.
Marketing Hub, Sales Hub, CMS Hub, Operations Hub, and Services Hub. CyberBridge is a certified HubSpot partner, that has the capacity to resell and provide the support for you to get used to the CRM software.
Reach us if you need any assistance with implementing HubSpot for your business.