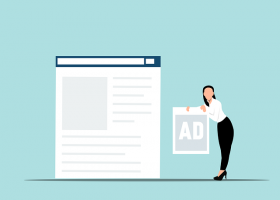 A landing page is a web page where users land after clicking your ads. In today's digital marketing best practices article we are going to explain to you, the industry-accepted proven methods which we use to get more conversions.
But first, did you know that?
"Businesses that have at least 15 landing pages get 55% more leads than businesses with less than 10 landing pages. Businesses that have at least 40 landing pages attract 12 times more leads than those with one to five landing pages."
Source: Tech Jury
So having different landing pages that focus on each product and service will give us the results that we expect.
If you don't know about landing pages, read this introduction first.
Use the same message on your landing page and in your ads.
This is the most important practice to follow. Users who click your ads are always expecting answers for their problems. These solutions must be mentioned in both the ad and the landing page.
For example, let's say you posted an ad with the headline "Social Media Marketing | Google & Facebook ads Specialists". Those who click this ad want to know about social media marketing, Especially about google and Facebook advertising. So instead of that if you have a landing page that promotes content marketing you will lose your user's interest.
No links except a link to your CTA
There is a major difference between the landing page and your website. We use links on our home page to navigate our website users. But we don't need this on our landing page. We need our users to stay on our page and to take a specific action.
It could be to collect their contact information or to subscribe to our newsletter, etc… If you use the navigation menu or other links on your landing page users may get distracted and take some other actions.
Call To Action Button
CTA or Call to Action is the action that we want our customers to take after they land on our landing page. When developing a CTA focus on the following two parts.
CTA Design
Your call to action button should be standing out. Always use a color that catches the eye. To make it more visible don't fill your space with irrelevant content. Use negative space. Avoid generic language and try to write an eye-catching call to action. Drive your user's eye to the CTA button using arrows or eye paths.
Mention your CTA, call to action above the fold
Above the fold means the area which you first see on a webpage once you landed on the webpage. It is the screen area that you first see before scrolling.
Place your CTA button strategically above the fold area and also make sure to repeat it a couple of times throughout the page depending on the length of the page.
Simple Data Collection Form
I usually click on online ads and check their landing pages. Many companies try to fill in as many details as possible on their landing page. They always try to get many personal details from them. Don't be greedy.
Let's be realistic. At this time we usually don't spend much time reading and filling too many data fields. Keep it simple. Try to use fewer data fields as much as possible.
Our advice is simple and is the best way to get your user to take action. For example, you can only ask your landing page visitor to give their email address. It will increase your lead conversion rate and will help you to approach them more uniquely.
Conclusion
The sole purpose of doing an advertisement campaign is to persuade your potential customers to take a specific action. Having a high conversion landing page will help you to achieve your ad campaign objectives.
If you use the following landing page best practices, you can get more conversions.
Use the same message on your landing page and in your ads.
No links except a link to your expected action.
Focus on Call To Action Button
Simple Data Collection Form
There are more proven practices that will help you to design a high-quality landing page. We will discuss them in a future blog article.
If you want to create a compelling landing page contact our team of professionals. We'll help you to get more conversions.
Reach us by filling out the following form.