Japan has one of the highest rates of internet and social media penetration in the world. With the continued involvement of private and public sectors, Japan showed continued growth in online activities.
It is one of the lucrative markets in the world. 93% of the population (almost 117.4 millions) is accessing the the internet. It provides many opportunities to promote products and services.
But due to various reasons like language, buyer behavior and Japanese traditions, marketing in Japan could be challenging for many foreign companies.
Having understood the target market will definitely give companies an added advantage. So In this article, we are going to talk about some interesting statistics about marketing in Japan. 
Internet Usage in Japan
As of January 2021, it is reported that over 117.4 million people are actively using internet. As a percentage of the total population, it is over 93%. Users aged 16 to 64 are spending an average daily time of 4 hours and 25 minutes on the internet.
83.1% of users accessing the internet via mobile devices. So having responsive web designs and mobile focused marketing strategy is better to reach your target market.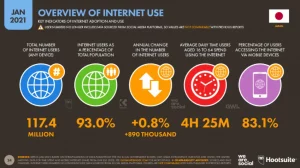 Source: https://datareportal.com/reports/digital-2021-japan
So we can understand how much japanese society is depending on internet.  Especially social media became a more powerful and influential marketing tool for almost all companies. If you are not using social media as one of your marketing strategies chances of losing to competitors is high.
Social Media Usage in Japan
Compared to western countries Japanese companies have been slow to adopt social media marketing due to many factors including a culture that values privacy, and a workforce that may be too busy or too shy to actively engage online (This explains the highest popularity of Twitter.)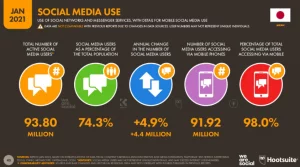 Source: https://datareportal.com/reports/digital-2021-japan
With over 93.8 million people are active on social media, it gives companies various opportunities to promote their products and services. This is why companies are more focused on increasing their online ad spending.
Back in 2019, for the first time in history, internet advertising market share overtook the traditional media. And it continues to grow.
The following chart shows how Japanese SNS users are using each social media platform.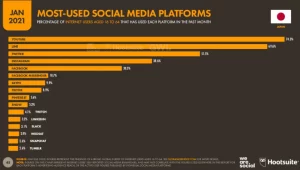 Source: https://datareportal.com/reports/digital-2021-japan
Facebook is the most used social media platform in the world. But when we analyze the above chart, we could understand that Facebook is not that popular in Japan. Youtube, Line, and Twitter are the most popular social media platforms in Japan. While Instagram ranked in 4th place Facebook and Facebook messenger took the 5th and 6th places respectively.
So when planning our social media marketing strategies we have to consider the above statics to reach more potential customers.
Online Advertising in Japan
Japan is one of the largest advertising markets in the world. According to Statista.com, in 2020 due to the Corona pandemic, the total advertising market showed a decrease of 780billion yen.
For the last few years due to the popularity of online advertising Japanese traditional media showed a considerable amount of decrease in advertising revenue.
In the fiscal year of 2020 online advertising market was valued at 2.13 trillion Japanese yen and expected to reach 3.27 trillion Japanese yen by the year 2024.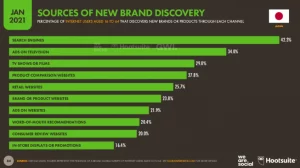 Source: https://datareportal.com/reports/digital-2021-japan
The above chart shows how users aged 16 to 64 uses each online platform when researching brands. More than 60.6% of users prefer search engines to research products and services. So investing in search engine advertising (PPC) would be the best marketing strategy. But at the same time, you might have to spend a higher budget for these popular online ad platforms like google. When everyone is competing on one platform for fewer keywords, Pay Per Click will be getting higher. This is why Facebook advertising is cheaper compared to Google Ads.
Summary
As of January 2021, Japan had a population of 126.3 million people. Out of that number, 117.4 million people are internet users. This is expected to grow and it provides many opportunities for businesses to market their products and services. 
In this article, we provided statistics and analysis of digital marketing in Japan. We know it will help you to plan your online advertising strategy.
Reaching the Japanese target market could be challenging due to the language barrier and localization We can help you with that.
To reach the right audience in Japan contact our CyberBridge marketing team. Comment below to share your experience with us. We will get back to you in no time.