Before I came to Japan, I thought Facebook or Twitter is the most popular social media platform in any country. When I met people I usually exchange social media contacts with them. Most of the time Facebook or Twitter.
But In Japan, there weren't many people who used Facebook or Twitter. But everyone seems to use one social media application. That is LINE.
What is the Line application?
According to a recent report issued by datareportal.com, the most favorite and the most used social media app in Japan is LINE.
But a Japanese company does not create the Line app. A South Korean corporation called Naver created it. It originated as a chat application. Initially, it was launched as Naver Talk in South Korea. But couldn't compete with the Kakao Talk, which is the most popular messaging app in South Korea.
On March 11, 2011, Japan was ravaged by the Tohoku earthquake and tsunami. It was known as the Great Tohoku earthquake. During this time Naver corporation released their LINE app. It was offered as a communication tool in a response to the disaster. Due to the localization, it immediately became a hit in Japan.
End of 2013, LINE became the largest social media app in Japan.
How many people use the LINE app in Japan?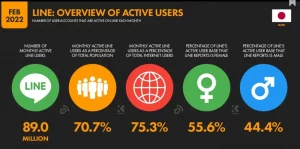 As of January 2022, Japan's total population was 125.8 million. Out of that 89 million people were active LINE users. This means as a percentage of the total population it is 70.7%.
Just imagine the exponential exposure this app has. 75.3% of Japanese internet users are using the LINE app. Out of them, a large percentage were female users. Which is 55.6%.
Furthermore, this report mentions that LINE is the most popular and the most used app in Japan.
Why LINE is so popular in Japan?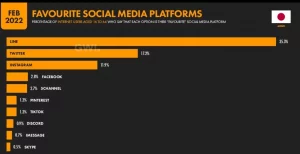 * Check the above chart. Have you noticed something? Youtube is not on the list. It's because youtube wasn't offered as an answer in this survey.
LINE is the most favorite app in Japan, followed by Twitter and Instagram.
There are a few main reasons for LINE's success in Japan.
Anyone who uses LINE knows that it is a super app with various offerings. Compared to messaging apps like WhatsApp and Facebook messenger, LINE offers a distinctive messaging experience to its users.
Furthermore, it offers other features apart from messaging. Followings are a few features that LINE offers.
LINE Chat
LINE Group Chat
Voice calls / Video Calls
LINE Stickers and Creators Market
LINE VOOM (Social network of LINE)
LINE Game
LINE News
LINE Manga
LINE Pay
LINE Shopping
LINE Healthcare
LINE Music
So yeah, it's a super app equipped with so many features. But there are more services offered by them.
LINE offered both the individual and business what they want. line stickers became an immediate hit among the Japanese community. People are eager to share their favorite anime, celebrity, or idols stickers with each other. For businesses, LINE is a great place to promote their products and services. There are various options to reach your target market. 
LINE is one of the best marketing platforms available for businesses in JAPAN. 
Summary
LINE launched as a chat app for communication. After ten years LINE is one of the fastest-growing apps in the world. It is the most used and favorite social media app in Japan.
LINE offers various features and provides various services for its users (both individuals and businesses). 
If you want to reach the Japanese audience with RIGHT targeting, CyberBridge is the right choice.
Reach us to reach your customer.