When it comes to SEO strategy the most important thing is to get your website on the top results of the SERP. Every individual website is competing to rank high on the SERP. SERP is the short form for the search engine result page.
But before getting into the top results of the SERP there are many things to be done. In this article, we are going to talk about just the basics. "How to get your website on Google?"
Without a doubt, Google has dominated the search engine market. According to statista.com as of June 2021, Google managed to maintain 92.47% of the search engine market share. So if you want to get more traffic it is important to set up your website google friendly.
How can I get Google's attention?
According to Google guidelines, Google doesn't accept any payments to show your information on organic search results.
As a business, you need to understand this clearly. Let's say you are investing in google ads and continue to do so. But that doesn't mean you will automatically get a higher rank in SERP.
Sometimes PPC advertisers expect to see their website on search results. If you want that to happen focus on a search engine optimization (SEO) strategy.
To get googles attention you only have to do one thing. Post your website on the internet.
How does google check my website?
In our previous SEO articles, we talked about how a search engine works? We explained to you the main three parts.
Crawling
Indexing
Serving the Results
Check our previous SEO articles if you want to know more about how Google search works?
Google crawlers automatically look for websites on the internet. These automatic programs will look for more than 1.88 billion websites on the internet. But it will take from a few days to weeks to complete this task.
How to check your website on google?
So how can we check whether our website is indexed successfully or not? You can do the following steps.
Search your website on google starting with a query of "site: website domain". For example, let's see our CyberBridge website. So the search query should be like this. "Site:cyber-bridge.jp"
Then enter. If your website is already on the index it will return results as follows. Remember if you want to check a specific URL you can follow the same search pattern also.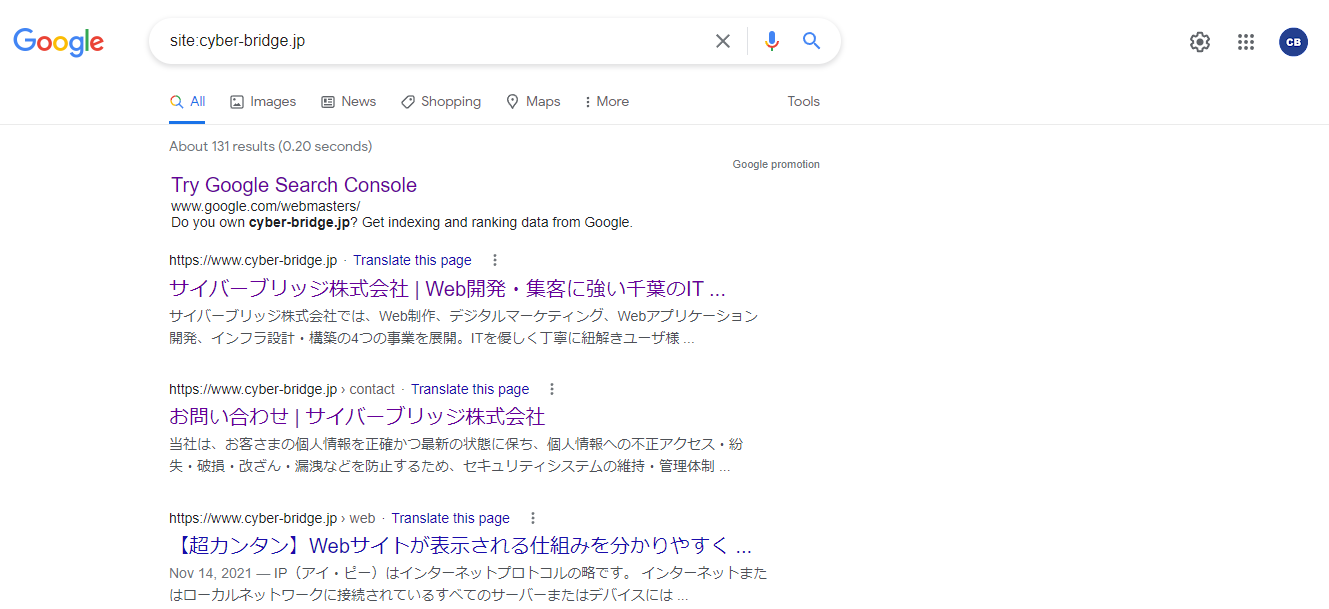 This step is the basic procedure to check your website. But to step up your game you can add your website to the google search console and check your website results there. Google search console is one of the best and necessary tools to use for your website. We will explain in our future articles how to start with the google search console?
Why my website does not appear in google search?
According to statista.com as of August 2021, there are more than 1.88 billion websites on the internet. So I think you can imagine how many web pages exist on the internet. So when crawling websites there is always a possibility to miss some websites.
If you post your website on the internet and google still does not index your website it could be due to the following reasons.
Google has not yet crawled your website:
If you launched your website recently or made new changes to the website it could be possible that Google has not yet noticed your website. According to Google, it will take from a few days to weeks for their crawlers to crawl a website.
Crawlers find it hard to crawl your website:
One of the main principles in web designing is to code and design your website in SEO friendly manner. This is why you need to choose a professional web designer to design your website.
If you need any help with designing or relaunching your website with SEO strategy contact our web design team.
You blocked your website or URL:
There are ways to stop your website from being crawled by Google. Sometimes designers use nonindex metatag or robots.txt files to stop crawlers. If your designer accidentally uses the above crawlers will ignore your website.
Sometimes if your website uses a login page to enter your website it could be hard for crawlers to crawl your website.
How to ask Google to index my website?
As we explained earlier it is possible to miss your website. So the best thing to do is to add your website to Google Search Console. By doing this you can keep your website up to date with google index and keep track of your website activity on google.
If you made some urgent changes to your website or to a webpage you can request Google to crawl the website or the specific URL.
Summary
Google uses an automatic software program called google bots or crawlers to collect information about your website.
But due to a few reasons, it could be possible for google to miss your website. So always keep an eye on how your website and webpages appear on Google search results.
In this how-to article, we talked about how to make your website visible in Google Search.
If you want to know about how google search works read these two articles.
At CyberBridge we are specialized in designing SEO-friendly websites. If you need any assistance don't hesitate to reach our professional team. Fill out and send the following form and we will get back to you in no time.