In our last two articles, we talked about social media advertising. Simply put Social media advertising is an advertising option that is provided by different social media companies
Because of the convenience, cost-effectiveness, segmentation, and broad usage of social media businesses are more likely to invest in social media advertising.
But during my marketing career, I've heard many stories about the lack of return on investment (ROI) of SNS advertising. This mainly happens because of the lack of knowledge in creating and executing advertising campaigns.
In this article, we are going to talk about the best practices we use at Cyberbridge to achieve our customer's objectives.
.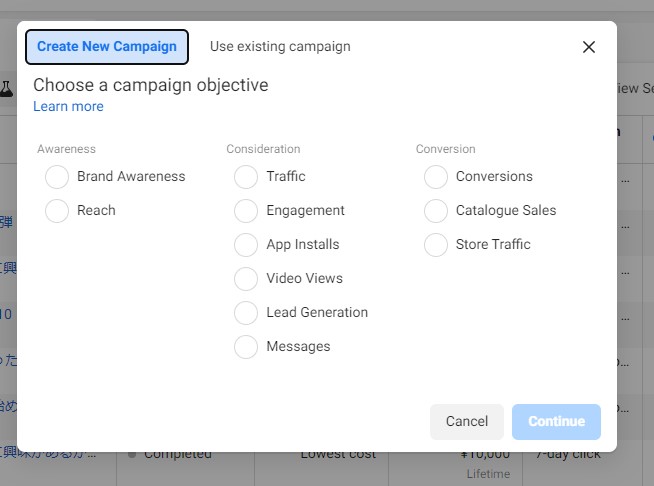 Facebook campaign goal settings window
Decide Your main Objectives
  This is just the prime rule in any advertising campaign. We need to decide what our goals are. From there we can forward with designing our campaign.
Let's imagine you have a store of gym equipment. You are satisfied with your offline sales. You recently launched an E-Commerce site to increase online sales, but still, no one purchased from the e-commerce site. So you need more traffic to the website and to convert them into sales.
Now you know what your main objectives are, which is to get online sales.
Like that, always decide your business goals. Talk to your marketing team. Align your business objectives with advertising campaigns. Set your advertising campaigns to achieve your goals.
Pick Your Target Audience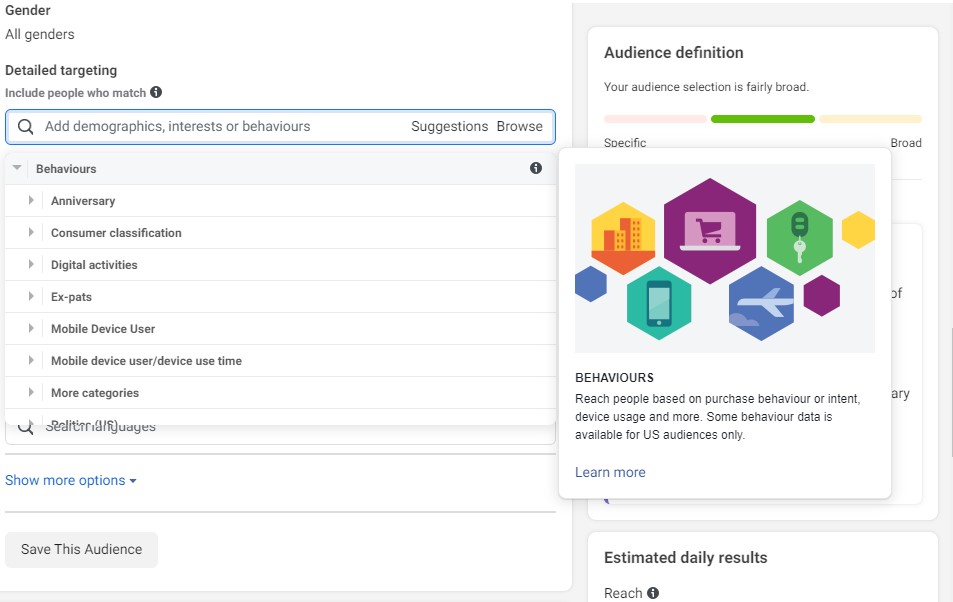 Now you know what your objectives are. So pick your exact target audience. Depending on your products and services It could be one audience or few.
If you don't target your exact audience there is a higher chance of losing your investment. Let's imagine you have baby products online. Which offers products for pregnant mothers to 3-year-old toddlers. So are you going to show your ads to all users or are you going to target those who purchase your products?
You can decide your target audience by looking at your past customers. Who visited your shop? Who bought your products? List their characteristics.
Social media provides many targeting attributes. Like,
Age
Gender
Marital status
Parents or not
Education
Financial
Work
Interests
Behaviors
When we create our target audience it's easy for us to deliver our ads to those potential customers and it will automatically increase our ROI.
Choose the best Social Media Platform
In our Learn The Basics series, 8th article " Introduction to Social Media Advertising", we explained that there are many different social media platforms in the world.
As a company, if you don't have a huge social media marketing budget and human resources, you can't be active on every platform. And based on the requirements like ad campaign objective and the target audience you can select the social media platforms to advertise.
The Example we took is china. If you want to promote your business in China, you need to first get to know how Chinese online users behave. As of June 2021, due to the government rules, Chinese people can't use Facebook, Google, Twitter, Instagram, Snapchat, Yahoo, Slack, and YouTube.
Always look for the social media platforms where your target audience is.
Check Your Performance and Improve 

To achieve anything in our lives evaluations are essential. Two-three decades ago there weren't many chances to monitor and improve advertising campaigns. Marketers are stuck with traditional advertising channels.
This is a huge advantage we marketers get from advertising in social media advertising. After we start an ad campaign we can see how our ads are performing. The impressions, CTR, clicks, cost per click, the daily amount spent, etc…
Let's say you set up your campaign for "Lead Generation". But you didn't get daily expected leads. So obviously you can understand there is an issue with your ads. Maybe you didn't set up your CTA properly. Maybe you didn't use the relevant texts in your ad.
So always remember to check how your ads perform. There are many metrics to choose from.
Make mistakes, learn from them and improve.
AB test your Ads 
AB testing is referred to when you are comparing a webpage or ads, etc.. against how users react. When you are setting up an ad campaign, always try to set up 2 or three different ads.
Then you know which ad is performing better. Then according to the available data, you can change the design, text, and CTA accordingly.
Summary 
Social media advertising is one of the best tools we have to achieve our business goals. But if you don't implement the best practices in your advertising campaigns, you will definitely lose your money.
Following are a few of the best practices we at CyberBridge use in our Social media advertising campaigns.
Decide Your main Objectives
Pick Your Target Audience
Choose the best Social Media Platform
Check Your Performance and Improve
AB test your Ads
If you need professional advice to create and execute a social media advertising strategy, please contact our team at CyberBridge.
Let us know what you think about social media advertising. Leave a comment below and we will get back to you if you need any clarification.
See you in the next blog post.
Until then good luck.