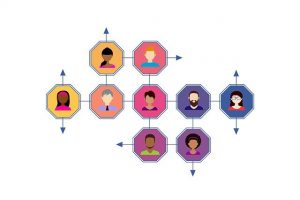 Social Media became one of the most important driving forces of your business.
We are living in one of the best times in human history. The opportunities to invent new things or to start a business are higher than ever. Social media plays one of the most important roles in businesses.
This is why I mentioned earlier that we are living in the best times of our lives. Compared to early advertising options, social media provides an opportunity to reach and target your potential customers without any restrictions.
What is Social Media Marketing
Social Media Marketing is the form of promoting and selling your products and services to customers using social media.
Social media marketing is not just advertising. Building a social media profile that your potential audience is active, is the first thing you need to do. Next reaching out and building a follower or fan base is the next thing. Here you might need a content development strategy.
By doing this we can communicate and engage with our existing customers and develop new customers. Being creative, relatable, and credible are a few standards to follow in your social marketing strategy.
Social media content creation will be different from platform to platform. If it is a short-form video platform like TikTok you need to create and upload short videos daily.
Social Media Penetration Statistic
According to one of the reports published by Statista, it is reported that global social media penetration reached 49% in 2020.
Just imagine almost half of the world's population is using any kind of social media. That means you have an audience who has the potential to be your customers or clients and at least almost 4.15 billion people around the globe which can help you reach even bigger markets!
In this article we will try to explain why it is so important to have a social media presence and what should you do to achieve it?
Social Media For Any Business
Social media is simply the "common platform" used to connect all generations and cultures across the earth today!
It is amazing to read how people like Mark Zuckerberg helped to build this cyber bridge between people.
Every business owner should know how to use social media effectively as well as other online platforms (like Google Ads, Facebook Advertising, etc).  The reason is we need to be active where our customers are.
The following map shows the popularity of social media in different demographic areas.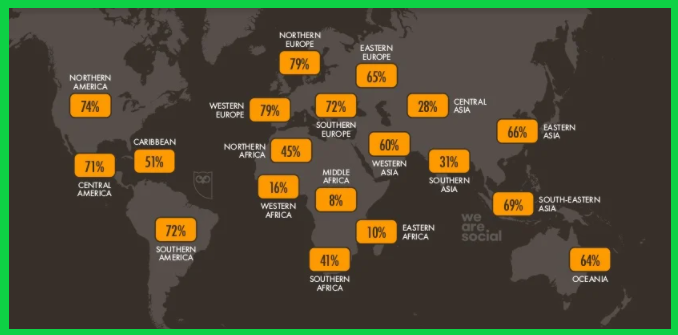 We live in a very digitalized society where everyone is so connected with each other through different social media with their mobile devices and that means that if your business isn't using social media the way that they want to be perceived then you are missing out on lots of potential new customers and clients who may otherwise not even know about you!
Social Media Benefits For Any Business
More than 63% of customers expect businesses to offer their customer service through corporate social media accounts.
People use social media for different reasons. Platforms like Facebook and Instagram are considered as more personal and casual social media. But if you take platforms like Linkedin, it is intended to increase our professional networks.
So you have to select one or more social media presence based on the marketing objectives and the industry you are in.
Benefits Of Using A Social Media For Businesses
Following are a few of the benefits your business can get from having a social media strategy.
Generating online traffic to your business content.
Conversion from online traffic to customers.
Building a loyal customer base (Fan Base)
Use Viral Marketing campaigns or Influencer Marketing campaigns.
Cost-Effective and more Targeted Advertising opportunities.
Social Media Marketing For Business
Digital technologies, platforms and online behavior is rapidly changing. To get the above-mentioned benefits, businesses need to implement more focused social media marketing strategies.
The following chart shows the most popular social networks worldwide as of October 2021.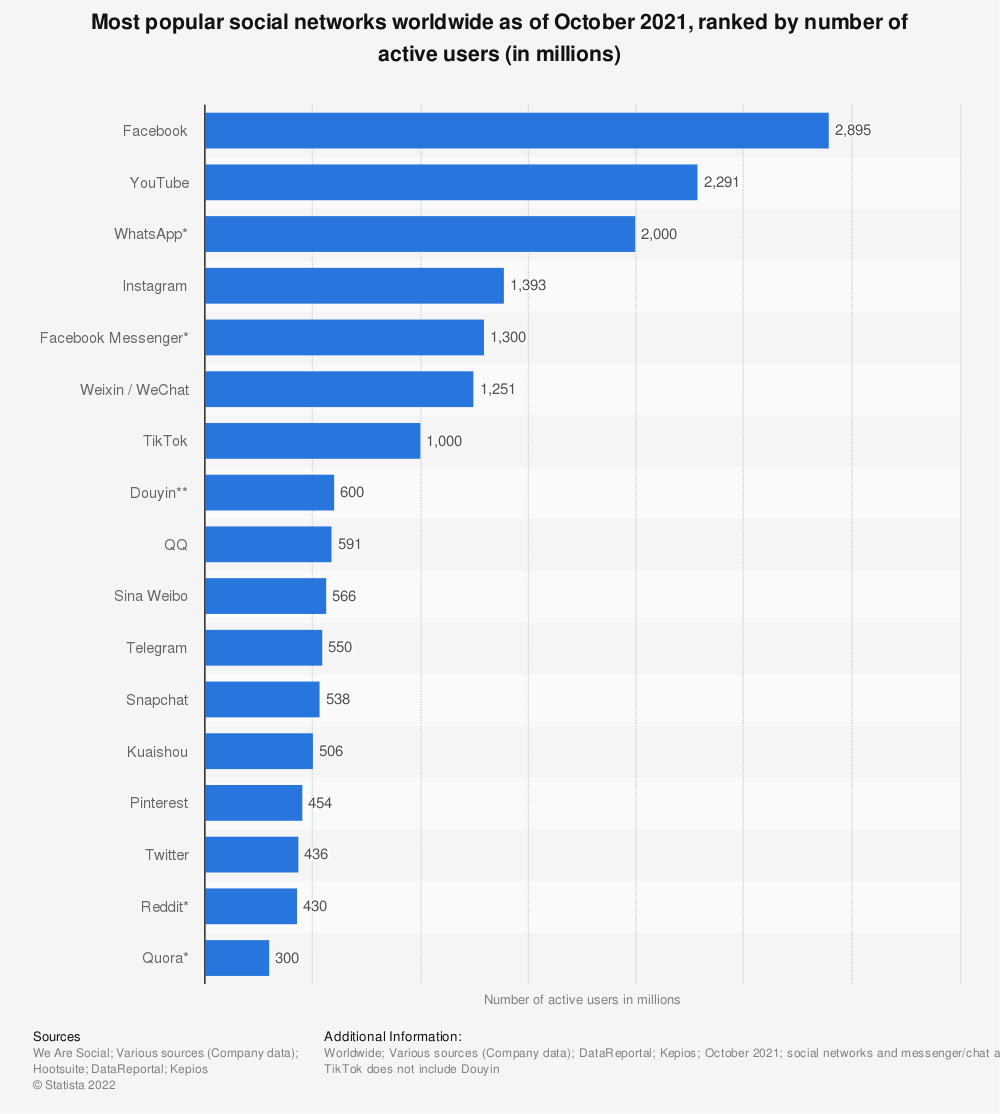 People are using different kinds of social media. This could be due to various reasons like locations, interest, age, etc… And also competition is high. So you can not build your brand and increase sales just by posting two or three times a day. It might take some time.
The best way to increase your chance of success is to come up with a social media strategy. To compete with your competitors you need a long-term focused social media strategy plus a social media advertising strategy.
Different Types of Social Media Marketing Strategies
Having a Facebook or Twitter account will not help you in 2022 to reach your audience. So we need the most relatable and trending SNS marketing strategies. Following are a few recommended strategies you can implement for your business.
Videos Are The Present And Future Of Social Media Marketing
If you can produce a video series like live videos and customer testimonials that are worth sharing, platforms like Youtube and Tiktok will help us to get the word out about them.
Driving traffic back to your website via links in your videos that lead to blog posts or ebooks related to your business, product, or service offerings is a great way to increase your engagements.
Professional Social Media Networks
SNS platforms like LinkedIn and Clubhouse have been proven effective at helping B2B and also B2C marketers to grow their businesses by sharing relevant information to build rapport and visibility between buyers, sellers, and customers.
Engaging in Forum Sites
Sites like Quora where anyone can ask questions about pretty much anything, with the potential for having really helpful answers, so it's good for answering questions consumers have that relates to your business or products, and then encouraging them to share the answers with others, driving traffic back to your website. This will establish your expertise in the relevant industries.
Reddit – This is another 'social news' site where people gather around certain topics to discuss them online, where you can ask questions and share your opinions with others (like Reddit users) who might be interested in what you have to say Blogging – If you're looking for the biggest bang for your buck when it comes to social media marketing, blogging is one of the most powerful ways to create new leads
Here are a few bonus ideas.
Summary
Social media plays an important part in any online marketing strategy. With the high penetration, SNS gives businesses various opportunities to build their brand.
But with different social media platforms and high competition, it could be challenging to achieve your expectations.
So decide which SNS platforms you are going to use. Decide what content marketing strategy you can use to target the potential audience. Based on that, develop your Social Media Marketing and advertising strategies.
You now know the importance of social media presence.
Did you create your social media strategy for 2022? If not or you need any support reach us by filling out the following form. We provide multilingual support.
See you in the next article.