Businesses do all sorts of things to promote their products and services. A few decades ago, there weren't many rules and regulations for advertising.
Businesses used many advertising tactics to influence people to buy products and services.
But now we are in a time where businesses are bound by a whole lot of rules and regulations locally and also globally. Furthermore, we have industry-level standards, traditions to follow. Still due to the high competition businesses find loopholes to promote their products.
Wondering what I'm talking about?
Tik Tok Japan latest Stealth Marketing Controversy
Did you notice any news about "stealth marketing or Undercover Marketing" recently?
I was browsing through my usual news feed and saw some interesting news titles about Tik Tok Japan.
"TikTok日本法人がステマの疑い 報酬支払い動画のツイート依頼"
"TikTok secretly paid influencers to boost content in Japan"
All these news articles were describing how Tik Tok Japan's head office paid its influencers to promote certain types of videos without informing users.
Using influencers to promote a business is one technique of marketing.  After launching its operation, TikTok became a popular social media app in Japan.
As of 2021, According to Statista, Tik Tok was used by almost 58 percent of people aged 13 to 19 years old in Japan as of January 2021.
Marketing is a form of promoting products or services. In marketing, there are various forms of digital marketing. Viral Marketing, Influencer marketing, Affiliate marketing, etc.
Those who are in the marketing industry, always follow best practices to get the best results and also to maintain the level of "Ethics".
But Stealth Marketing is not one of them.
What is Stealth Marketing?
Stealth Marketing, Buzz Marketing, or Undercover marketing is a form of marketing that promotes services or products without even letting users know that they are advertising.
In our day-to-day life, we are heavily exposed to advertising. No matter where you are going, you can't escape from being exposed to advertising.
But as long as people know that they are watching, hearing, or experiencing an advertisement they have an opportunity to choose whether or not to consume that product and service, and also we can opt-out from that advertisement.
Difference between Paid Advertising and Organic Marketing
Some of you might be wondering "So What? What is the difference?".
Before explaining it, we need to know about the difference between advertising a product and organically growing the reputation of that product.
Take the following example.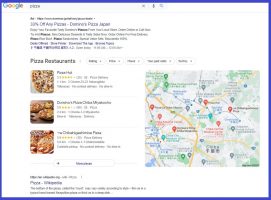 Here you can see that the top search results of the Google SERP are marked as "Ad". These are paid ads that use GoogleAd's advertising platform to promote their products.
We can see the organic results after the paid listing ads.
If you start a business today, you can show your listing ads on the top of the results page on the same day by using Google Ads. (But you need to plan your advertising campaign strategically.)
On the other hand, you can't show your business on Google search results top page organically on the same day you start your business. It takes time. It will take months and years of hard work and strategic planning.
So let me ask you a question that anyone who uses the internet can answer.
"Which results have the most credibility? Is it the Paid Ads? Or is it the Organic results?"
"80% of people who search for things on Google completely ignore the paid ads."
Many users think that organic results are more credible than paid ads. Google search algorithms are always after credible sources and based on your domain "Authority" you will get a chance to rank high on SERP.
Why do Businesses use Stealth Marketing?
The reason is simple. When customers don't realize that they are experiencing an advertisement, it is easy to promote a brand, product, or service.
Let's go back to the earlier news. We know that Tik Tok became a top social media app after its launch. Tiktok challenged major SNS players like Facebook, Instagram, and Youtube.
So what happened is with time other social media platforms also added short video experiences to their apps.
Instagram launched "Insta Reels." Youtube launched "Youtube Shorts." And we know some countries banned Tiktok. They lost a huge market share after the ban in India. During the last American election, the US government also expressed their concern about Tik Tok users' privacy detail leakages to the Chinese government.
Due to this high competition, we believe Tiktok Japan tried to promote their hand-picked videos to promote their brand. Marketing in Japan could be challenging for many foreign companies.
Look, "Undercover Marketing or Stealth Marketing" is not illegal. But as a practice businesses consider it as an unaccepted marketing form
Bad side Of Stealth Marketing
I mentioned earlier that a large percentage of Tik Tok users in Japan are aged between 13 to 19 years old. Those who are in their teen ages tend to follow their idols and celebrity personalities.
Influencers have way more influencing power to their audience, sometimes more than family members. So imagine when you paid an influencer to promote something. Then the influencer usually says that they used these particular products or services and recommends them. Then the audience believes this as an organic experience.
To put it in a nutshell, Stealth Marketing can push products, services, brands, or ideas onto people without their knowledge. And that is unethical.
Summary
Tik Tok Japan is facing a backlash from media, users, and other industry rivals because of their recent stealth marketing campaigns.
Stealth Marketing is a form of marketing that promotes products, services, or brands to users without even letting them know. As marketers, we believe that everyone should have a right to know whether they are exposed to advertising.
There is a lesson we can learn from this news.
When your stealth marketing campaigns get exposed, it can harm your reputation and also the credibility of your brand. So don't use undercover marketing for your business.
To use better cost-effective digital marketing campaigns, reach us by filling out the following form.
Take a look at our Complete Guide to Voice Search.