This is a complete guide to the three components of SEO. Which are Technical SEO, On-page SEO, and Off-page SEO.
SEO is an acronym for Search Engine Optimization. Search engine optimization is optimizing a website for search engines like google.
The first thing you need to keep in mind is that you are producing content for humans. One thing most people forget is that search engines are one of your users.
Actually what they do is, select the most suitable content that answers customer search queries and present them. So search engines always look from the perspectives of humans.
We hope you read our previous SEO articles. So in this article, we will explain to you the three components of SEO.
Three Main Components Of Search Engine Optimisation
If you read any digital marketing book, manual, or blog you can always find there are 3 main parts of SEO. Sometimes people mention them by different names but refer to the same component. For your convenience, we will list them down.
Technical SEO
On-page SEO (Content SEO / Relevance SEO)
Off-page SEO (Promotional SEO /Authority SEO/ Back or inbound Links)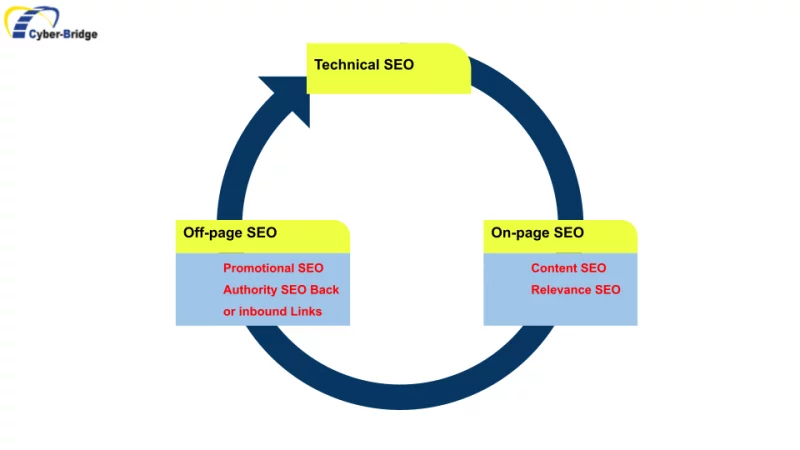 Technical SEO
Technical SEO is about analyzing and optimizing your website's technical aspects. The objectives of Technical SEO are to make it easier for search engine crawlers (search engine spiders) to crawl your website and to speed up the website to give an excellent USER experience.
There are different views on technical SEO. If you read a blog like Yoast, they say Technical SEO is fallen under On-page SEO. But we believe it is ok to consider Technical SEO as one component of SEO.
To understand technical SEO first we need to learn about how search engines crawl our website.
Crawling, Indexing, and Query Engine
To simply explain this, Google uses an automated system named crawlers (google bots/spiders). These bots will crawl into any website which is linked to the internet and gather information about your website.
After the crawling, search engines will store and organize that information to present to their users. This is called Indexing.
When a user searches for something, the search engine will show the most relevant information about your website, and organize those results from the first page to the last page, this is called a query engine.
Technical SEO checklist
Technical SEO is mostly involved in design and development parts. There are a few main components of Technical SEO you need to focus on. If you want a website that is technically optimized you need to focus on improving things.
Website Speed
Security of the website
Javascript
Dead links
Website architecture
Hreflang
redirects
XML sitemaps
Structured data
You can use technical SEO tools like Google Search Console, Page speed insights, SEM rush, Ubersuggest, and Ahref to find out your website's SEO issues.
What are the benefits of technical SEO?
Search engines like Google always prioritize websites that give the best user experience. This means you need to optimize your website technically for humans and also search engines.
Here we listed a few main benefits you would get from technical SEO.
Better organic rankings
You can find out your technical weaknesses
You will understand the issues with your website structure
It helps to remove duplicate content
Improve page speed
Fast loading website
On-page SEO (On-site SEO / Relevance SEO / Content SEO)
This is also known as On-site SEO. On-page SEO is focusing on optimizing the components of website pages in order to get a higher organic Rank on SERP(Search Engine Result Page). Which is mainly the content of the website and the source HTML code.
Google crawlers are text-based. So building content that relates to your business will help you to get a higher rank. To build an On-page SEO, you need to do proper keyword research. Then produce content that solves your target audience's search queries.
Based on the keyword which relates to your business, develop more and more content. Try to create a content marketing strategy that will provide solutions to your customers' questions. For example, you can follow a content strategy like "topic cluster".
If you are using WordPress for content creation, there are SEO plugins like "Yoast" that help you to improve your On-site SEO.
On-page SEO checklist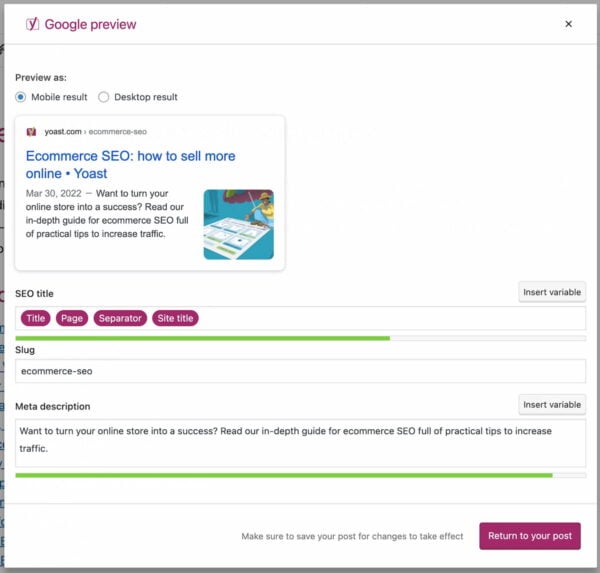 Early days content marketers crammed their web pages with keywords. But now search engines are way smarter than in the past. Search algorithms will look into the search intent while they looking for keywords.
If you have a page that is only filled with keywords it won't get a chance to rank on the SERP. Search engines will check whether your content provides solutions for the search queries.
SO focus on producing valuable content that answers your customer's search queries. To improve your On-site SEO focus on using the following best practices.
Keyword usage frequency
Keyword usage in H1 and H2 tags
Use internal links
Links to authoritative and relevant sources (outbound links)
Optimize URLs for main keywords (Optional)
Optimize meta description and the title
SEO optimized content
Optimize images
Adding Schema markups
What are the benefits of on-page SEO?
Onpage SEO has many benefits. It is an ongoing process and once you implement the best practices of On-site SEO, it is easy to follow those rules.
Search engines like Google can understand the content of your website quickly if you optimize your on-page SEO. When search engines can understand your content clearly they can easily show your content when the relevant search queries are been typed.
Off-page Search Engine Optimization
(Promotional SEO /Authority SEO/ Back or inbound Links)
Off-page SEO is the third component of Search Engine Optimization. It focuses on anything that can be done outside of your website to get the highest rank of SERP.
Mainly it is all about acquiring nonspam links from other authoritative domains to your website and building your brand. When you develop high-quality, related content which helps your users, they will recommend and share your content.
Also, other websites and bloggers will link to your content. Which automatically helps to increase the authority of your domain.
Having links from other websites to your website is called Backlinking or Inbound linking.
When this happens search engines will identify your website as a credible and relevant source. It will help you to get to that top rank.
When marketers improve their off-page SEO, sometimes they tend to use black hat SEO techniques like using link farms or link schemes. Which is not recommended. Bead our black hat SEO guide and White hat SEO guide to find out what strategies you should follow to improve your SEO.
Off-page SEO checklist
There are different things you could do to improve your off-page SEO. Many marketers consider Off-page SEO difficult compared to On-site SEO and technical SEO.
So we have prepared an off-page SEO checklist. Work on this checklist to improve your off-page SEO.
Backlink building
Guest posting
Influencer marketing
Commenting
Reviews
Podcasting
Social media marketing
Forums
Brand awareness (Brand building)
Newsletters
Broken link building
What are the benefits of off-page SEO?
There are more than billions of websites. No matter which niche belongs to, there are always competitors and they also compete for the same as your target audience. When there is much content for the same search query Google will use different search algorithms to rank those content.
One of them is the domain Authority. So if your domain has a low authority you have little chance of being ranked on the first page of search results.
Off-Page SEO is the best solution for the above question. It increases the authority of your domain. This means by having a great off-page SEO, the search engine considers that your content provides credible, quality, and expert answers to your visitors. Then Google will show your content to more and more people.
Domain Authority (DA) is first developed by MOZ. It predicts the ranking possibility of a domain. Based on various factors Domain Authority score predicts how likely a website is to rank in search engine result pages (SERPs).
A higher domain score means that website is stronger and more authoritative. You can check your DA score for free by logging into the Moz website.
You also should focus on optimizing your content for voice searches. Do you know how to optimize your website for voice search? If not read our voice search optimization guide.
Conclusion
Search engine optimization (SEO) is the process of optimizing a website to get a higher rank on the search engine result page (SERP).
There are 3 main components of SEO. In this article, we dived into the following three parts of SEO.
Technical SEO
On-page SEO (Content SEO / Relevance SEO)
Off-page SEO (Promotional SEO /Authority SEO/ Back or inbound Links)
Understanding these three parts is important to build a result-oriented SEO strategy. And also make sure to keep an eye on search algorithm updates in order to change your strategies accordingly.
At CyberBridge, our marketing team is ready to help you to develop and implement an SEO strategy to get more organic traffic to your website. Check our voice search article to find out how to optimize your website for voice search.
Contact us anytime. Your feedback is our strength. So leave a comment below.