In our previous article, we paved the beginning of our SEO Journey. SEO or search engine optimization has three main components.
Now you have the basic knowledge of SEO. Let's move on to the next part. There are three components of SEO.
Let's say you woke up in the morning and got yourself cleaned up and you are ready to have breakfast. There is a loaf of bread, butter, and Jam on the table. There is also a knife, a spoon, chopsticks, and a fork. Which one do you use to cut the bread and spread butter and jam?
Are you going to use chopsticks? Or the knife? Or your hands?
To get a higher rank on the search engine results page (SERP), you need to know how to select the best tools and techniques.
But before we do that let's get to know the main components or parts of SEO. This could be a little bit technical but vital to know.
Three Main Components Of Search Engine Optimisation
If you read any digital marketing book, manual, or blog you can always find there are 3 main parts of SEO. Sometimes people mention them by different names but refer to the same component. For your convenience, we will list them down.
Technical SEO.
On-page SEO (Content SEO / Relevance SEO)
Off-page SEO (Promotional SEO /Authority SEO/ Back or inbound Links)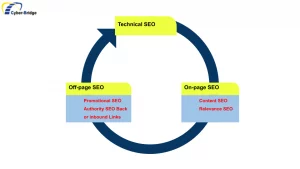 Technical Search Engine Optimization
Technical SEO is the first component.
Do you remember we talked about Crawling and Indexing in our first SEO article? I told you just to remember the terms. If you forget to read it, read the following to get the basic idea.
To know about a website search engines like google use a few steps.
Crawling, Indexing, and Query Engine
To simply explain this, Google uses an automated system named crawlers (google bots/spiders). These bots will crawl into any website which is linked to the internet and gather information about your website.
After the crawling, search engines will store and organize that information to cater to their users. This is called Indexing.
When a user searches for something, the search engine will show the most relevant information of your website, and organize those results from the first page to the last page, this is called a query engine.
Technical SEO is mostly involved in design and development parts.
Just remember that it's important to build your website in a way that search engines can easily find and understand.
This is why you need a well-structured, responsive website with noncomplicated coding.
On-page Search Engine Optimization (Content SEO / Relevance SEO)
On-page SEO is the second component.
Google crawlers are text-based. So building content that relates to your business will help you to get a higher rank. To build an On-page SEO, you need to do proper keyword research.
Based on the keyword which relates to your business, develop more and more content. Try to develop a content marketing strategy that will provide solutions to your customers' questions.
If you want to develop a result-oriented content marketing strategy, remember to get our professional team's support at CyberBridge.
Off-page Search Engine Optimization
(Promotional SEO /Authority SEO/ Back or inbound Links)
Off-page SEO is the third component and it is anything that can be done outside of your website to get the highest rank of SERP.
Mainly it is all about acquiring links from others to your website. When you develop high-quality, related content which helps your users, they will recommend and share your content.
Having links from other websites to your website is called Backlinking or Inbound linking.
When this happens search engines will identify your website as a credible and relevant source. It will help you to get to that top rank.
Do you know how to optimize your website for voice search? If not read our voice search optimization guide.
Conclusion
Search engine optimization (SEO) is optimizing a website to get a higher rank on a search engine result page.
There are 3 main components of SEO
Technical SEO.
On-page SEO (Content SEO / Relevance SEO)
Off-page SEO (Promotional SEO /Authority SEO/ Back or inbound Links)
It's important to know about these three parts to build a result-oriented SEO strategy. And also keep an eye on search algorhythm updates inorder to change your strategies accordingly.
At CyberBridge, our marketing team is ready to help you to develop and implement an SEO strategy to get more organic traffic to your website. Check our voice search article to findout how to optimize your website for voice search.
Contact us anytime. Your feedback is our strength. So leave a comment below.