Ubersuggest is a digital marketing tool used for SEO and content marketing. Any business or an individual who has a website can use Ubersuggest to step up their SEO game.
These days having a website is not just enough. Having a blog and paid advertising campaign is also not enough. That is why we need tools to analyze our website. Especially SEO tools provide tons of analytical data and insights for improvement.
SEO tool is a software or any other online platform that analyses and gives suggestions for search engine optimization.
There are many paid and free SEO tools that we can use. For example, Google provides a few of the best tools available in the market for free. Like search console, Google Analytics Page Speed Insights, Google keyword planner, etc.
There are other tools like Bing webmasters tools, Answer the public, Moz free SEO tools, etc.
But in many cases, these tools only provide insights into one category. For example, Google Page Speed Insights only provides information relates to technical SEO. So if we can use one SEO tool that provides all the necessary information, it could be a lifesaver.
What is Ubersuggest?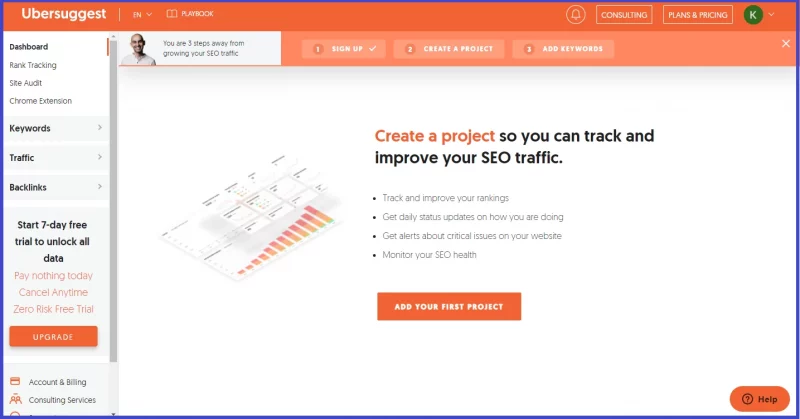 Ubersuggest is a powerful and popular SEO tool that is used by many marketers. The brain behind Ubersuggest is Neil Patel. Neil Patel is one of the top digital marketers in the world. He is a New York Times bestselling author.
The main objective of Ubersuggest is to improve the website and increase web traffic. Uber suggests providing keywords and content ideas to optimize users' content strategy. What I most like is about it gives me ideas to improve my content strategy. It is also a good tool to keep an eye on your competitors.
Once you log into the Ubersuggest home page, you can change the language and start using the free version.
Uber Suggest is focusing on five main areas.
Site Audit: Checking SEO issues with Ubersuggest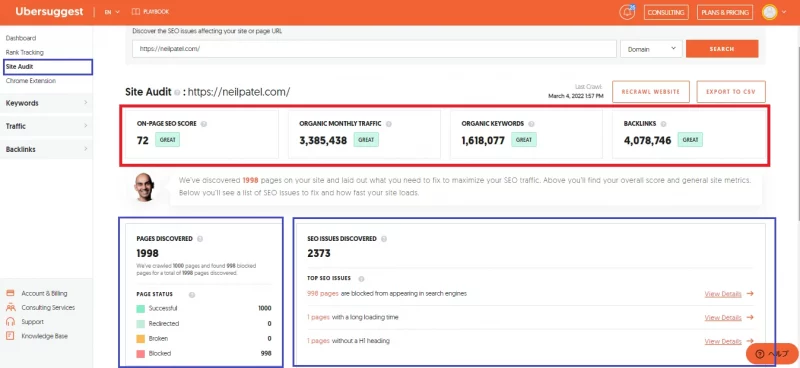 For me, this is the most important function in Ubersuggest. Site audit lets you analyze a domain or a URL. So It can reveal if there are any SEO issues.
Using this report anyone can find technical SEO issues easily. Ubersuggest Site audit Report gives an overall SEO score (on-page SEO score) of your domain. On-page score reveals how your SEO performance is, 0 being the lowest and 100 being the highest.
The goal should be to increase this score.
When you go to the "See All SEO issues" report, you can see the list of SEO errors and how to fix those errors.
The Site Audit report provides the following information.
On-Page SEO Score
Organic Monthly Traffic
Organic keywords (The number of keywords a particular domain ranks for in the organic search)
Backlinks
SEO issues
Site speed
Introduction to Ubersuggest Keyword Overview Section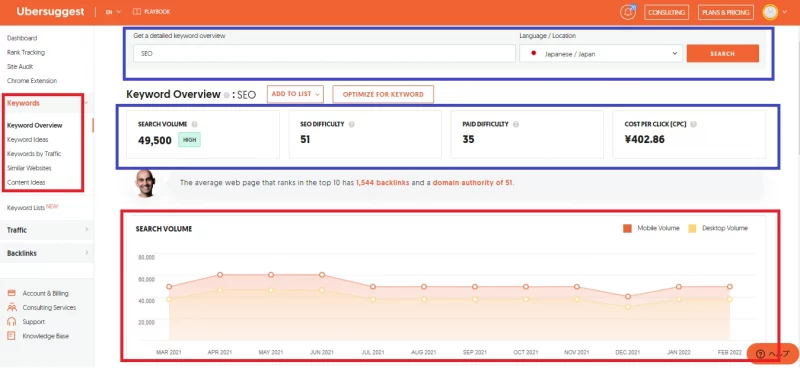 To start any SEO strategy keyword research is essential. Although Google Suggestions, Google Trends, and Google Ads keyword research tools provide valuable information, Ubersuggest offers more data to optimize any keyword research.
Let's say a business has already prepared a keywords list that they want to target. But what if many of those keywords don't have search traffic. What is the point of producing content that no one is reading?
Ubersuggest keyword section provides you with the solution. You can get the following details.
The number of searches a particular keyword has during a month.
Detailed overview of mobile and display searches a particular keyword has during a month.
SEO Difficulty (Estimated competition a particular keyword has in organic search).
Paid Difficulty (Estimated competition a particular keyword has in paid search).
CPC-Cost Per Click (Average cost per click to pay for google ads to display your ad for a particular keyword).
Keyword Ideas (What related search queries and keywords do people use in Google search)
How many people click on organic and paid search results.
Demographic breakdown of searchers.
Generating Content Ideas in Ubersuggest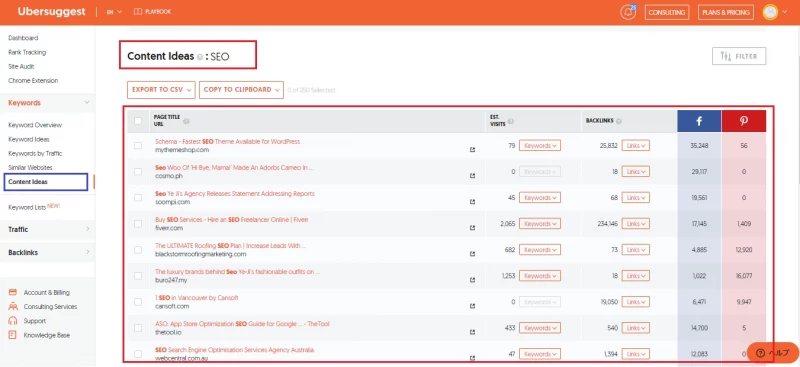 One of the best sections in Ubesrsuggest is the content ideas section. When you enter a particular keyword, it will give you a list of popular posts currently on the internet. In this report, we can find how many social shares, backlinks, and estimated visits these popular web posts get.
By analyzing this report we can get an idea of what kind of content gets the most social shares, and traffic, what keywords the particular web post is ranking for, etc.
So with this valuable information, we can develop better content to outrank them. So the Ubersuggest content ideas section helps us to optimize our SEO strategy.
Traffic Analyzer in Ubersuggest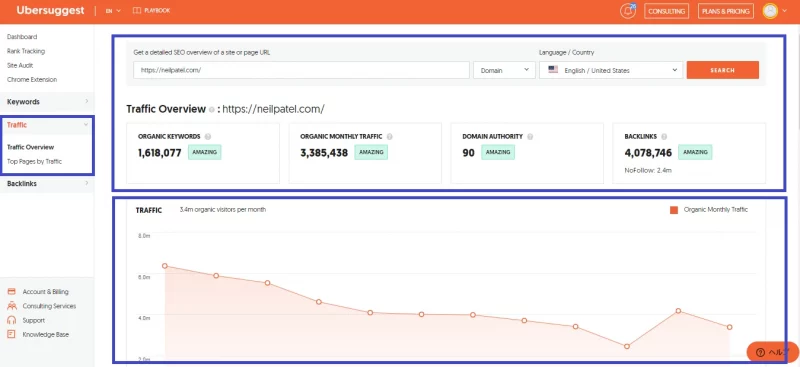 The traffic analyzer shows us the ranking keywords that drive traffic to any given domain or URL. Which can be helpful to optimize content marketing strategy. This is important for competitor analysis. We can check what content and keywords are driving traffic to your competitors. Then compare it with your content and improve.
This section gives tons of information about your competitors. Any business has competitors. And doing a competitor analysis is necessary to be stable in any industry. Information like what are the competitor's top pages? What keywords are they ranking for?
When you enter a particular domain name Ubersuggest provides you following information.
Web traffic a particular site gets from Google search.
Ranking keywords of a particular website or URL in the organic search.
Top viewing pages in any domain.
How many views, Google ranking position, estimated visits and SEO difficulty, and ranking keywords a particular page has.
How to grow backlinks with Ubersuggest?
If you ask any SEO expert about backlinks, they will tell you growing backlinks are not easy.
But getting backlinks from other domain that has a better domain authority Backlinks are important to get a higher rank on the search engine result page. It is obvious that Google search algorithms are considering backlinks as one of their rankings. After all, that is how google bots/crawlers are finding content on the internet.
If your website gets backlinks from other web resources, it signals something to search engines. Which is, that your content is worth linking to. That means your content is valued by other websites. Ultimately it shows the authority of any given domain.
Ubersuggest provides its users an opportunity to grow their backlinks profile. There are two semi-sections in "Backlinks."
Backlinks Overview
Backlinks overview shows the backlinks profile for any given domain or URL. First, check your website. You can also analyze a specific URL. Most importantly check your competitor's backlinks authority. Competitors who perform better than your website.
The backlinks overview section provides the following information.
Domain Authority (This is a metric used by MOZ to identify how likely a website is to rank on the Google search result page. The score is calculated from 1 to 100. the Higher the number higher the possibility to rank top)
Page Authority
Referring domains
Backlinks – how many links your page or website got from other domains
Growth history of backlinks
New and lost referring domains
Backlink source information
Backlink opportunity
Here you can compare your domain or a URL to your competitors. Check who links to your competitors and who doesn't link to you.
For example, imagine that your competitor has backlinks to one of his web posts. But you also wrote an article, an article which is better than your competitor, but no one links to you. That is an opportunity. Reach to those who are linked to your competitor and promote your content.
Remember, Ubersuggest is not a miracle tool that creates backlinks for you. It only shows you opportunities. Having valuable content that other websites like to link is a golden rule of growing backlinks.
What are the benefits of Ubersuggest?
Compared to other SEO tools available on the internet, Ubersuggest offers many benefits. We list a few of them.
All in one SEO tool.
Cheaper than other Paid SEO tools
One of the best keyword research tools.
Provides keyword ideas to rank in Google SERP.
Provides content ideas for producing SEO-friendly content.
Best tool or competitor analysis
Available in different languages
Provides information on link building.
Analyze and show current SEO issues.
Export reports to CSV
Ubersuggest Pricing and Plans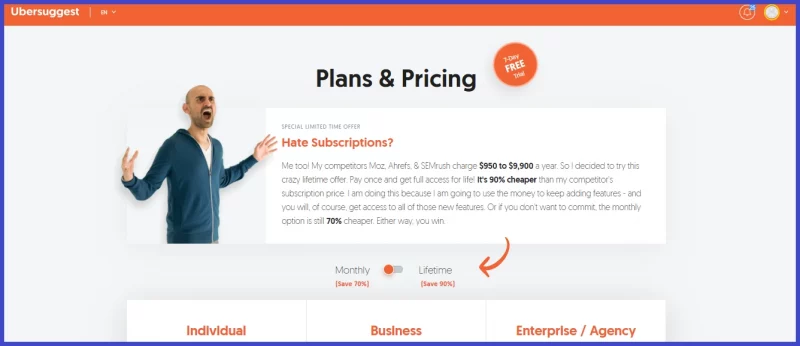 One of the main specialties in Ubersuggest is the price. Compared to other SEO tools Ubersuggest is cheap.
Ubersuggest offers 4 main packages including the free account. But sometimes you can purchase a lifetime membership plan. As Neil said it is a crazy lifetime offer.
The only thing I find con is that their page crawling has limits. If you purchase an individual plan, it only crawls 1000 pages. You have to pay more to upgrade the crawling limit. So those who operate websites with a large number of pages might have to purchase a higher package. Check out the pricing page to get more details.
Summary
Ubersuggest is an SEO and content marketing tool. Anyone who wants to improve their search engine optimization effort can benefit from Ubersuggest.
Ubersuggest offers a site audit report that helps us to understand the current SEO issues of a particular domain or a URL. Also, it offers various reports and insights, like a Traffic analyzer, Content Ideas, Backlinks, and keyword overviews.
In our next articles, we will go deep into how to use Ubersuggest.
Sometimes it could be challenging when implement digital marketing strategies to increase your revenue. Cyberbridge can help you to reach your potential customers in Japan. Fill out the following form to reach us. We will get back to you in no time.