What is the most critical factor that decides your company's success? What will help you to achieve your company's revenue targets?
For these questions, there could be different answers. But as we understand there is one factor that is critical to the success of any business. That is identifying your target customer.
Before any marketing campaigns, sales approaches, or business decisions you need to prepare your target customer personas. This is commonly known as the "Buyer Personas".
Definition of a Buyer Persona?
As we explained earlier buyer persona can be identified as your ideal customers. These are the people you want to sell your products/services to.
But furthermore, let's try to define a buyer persona. Although there are many definitions of buyer personas I would like to mention HubSpot's definition.
"The buyer Persona is a semi-fictional representation of your ideal customer based on real data and some select educated speculation about customer demographics, behavior patterns, motivations, and goals."
Why should you create buyer personas? (Benefits of Buyer Personas)
Identifying your target audience is the core of any marketing campaign. If you don't know who you are promoting? your products its a waste of all resources. You will end up with zero ROI.
Identifying the target customer gives you the competitive edge to win any marketing campaign. It is helpful not only for marketing but also for other departments. When they have buyer personas, sales reps can approach their customers with confidence. They know what to talk about and how to convince their customers.
Contact centers and operation departments can all provide delightful customer service if they know to who they are providing services.
How to Create Buyer Personas?
Any successful inbound marketing campaign will start by creating buyer personas. But to do this we need actual and accurate data. We can't just create buyer personas just because we have an idea. Followings are a few ways to collect data.
Carrying out marketing research.
Get information from your sales/customer service reps.
Interviewing actual customers.
Using a survey to collect data from actual customers.
Asking a professional agency to conduct research.
These data will be divided into two main categories.
Psychographic Data
Demographic Data
Psychographic Data
Psychographic data is gathered to understand your target customer's opinion, and thoughts. This will give insights into what your ideal customer thinks. What makes them buy your products or services? What are their pain points? Psychographic data will reveal the motivation behind your customer's buying decision.
Demographic Data
Demographic data are revealing about your ideal customer's socioeconomic information. like age, gender, income, education, ethnicity, property ownership, etc…
Between these two data, psychographic data are more important in creating buyer personas. The reason is it gives us insights into the customer journey. Which is more important in inbound marketing.
How to use Hubspot persona generator to create buyer personas?
Before preparing any buyer personas, try to collect data as much as possible. The more data you have more accurately you can design. So don't rush.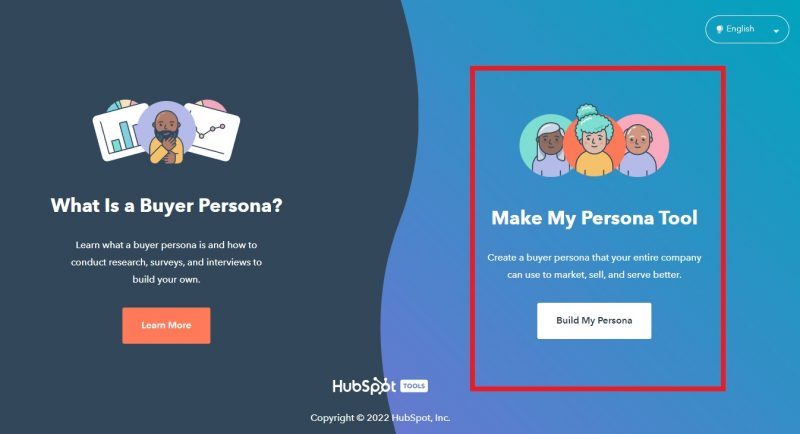 Log in to HubSpot "make-my-persona" tool. Select the "Build My Persona".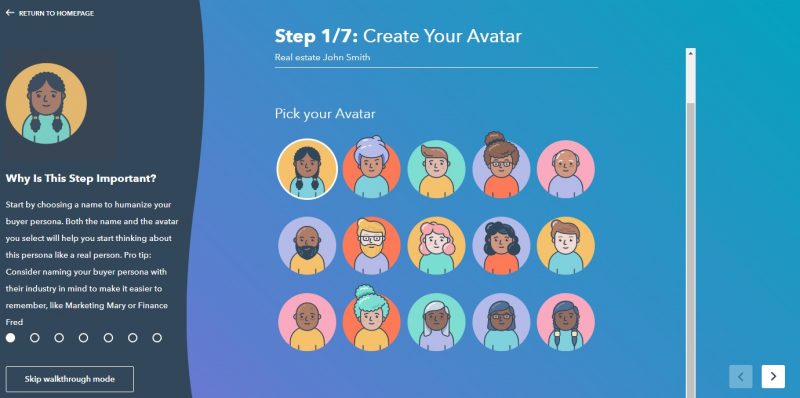 In the next window, you should create your avatar for the buyer persona. Naming and selecting an avatar image is important. The reason is that we should humanize these buyer personas as much as possible. It will help your team to feel close to these personalities.
Remember to name your persona with their industry. For example, If your products are catering to real estate you can name your personas as "Real Estate John Smith".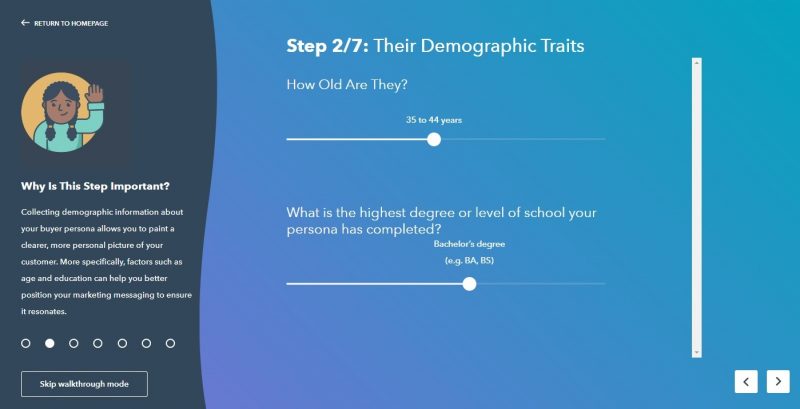 Then provide demographical data to create a more personal and specific image of your buyer persona. Here you have to create at mention their age and their level of education.
Next, fill out the information about your customer's business. What industry are they involved in and the size of the organization? This step is necessary to get more qualified leads.
The next step is about their career information. What is their job title? How is their job measured? who do they report to? This information is important to strategize your content creation process. Finding out your buyer persona career and seniority level helps you to identify what makes this buyer persona successful?
In step 5 we will identify their psychographic data. Input their job characteristics and goals. By identifying their goals and objectives we will get insights into their challenges. What obstacles they are facing when achieving targets.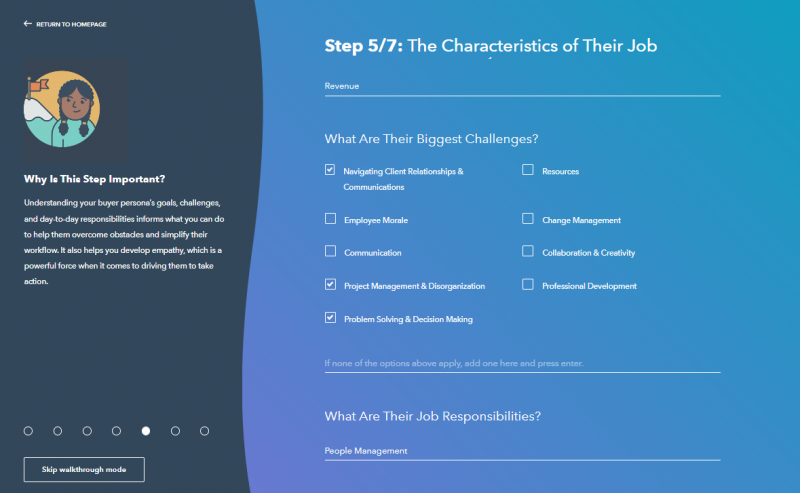 In the 6th step, you have to input what tools they are using in day-to-day work. Which tools do they prefer to use for communication? By identifying this we will know how to position our marketing message.
In the last step, you need to find out how they consume information. Which social media do they like to use? How do they get information for their job? At the end of the day, we are going to promote our business to these buyer personas. So by knowing where they are active we can make ourselves present and reach out to them.
Finally, you will get a downloadable buyer persona. Following is my sample persona. You can change the color scheme if you want and download or share your persona.
Summary
Buyer personas represent your business's ideal customer types. These are the customers you want to market your products and services to.
Creating buyer personas will help to achieve the desired marketing objectives and ultimately leads to building long-lasting customer relations. Not only for marketing, but every department can also get benefits from buyer personas.
Using HubSpot's "make-my-persona" tool we can easily create buyer personas. You only have to provide demographic and psychographic data of your buyer personas.
CyberBridge is a certified HubSpot solutions partner where we help you to buy HubSpot CRM products. We also help you with the implementation process. Reach us to get more information.