A higher percentage in Japan use the internet. Japan is one of the most tech-savvy countries in the world. But compared to the other part of the world in statistics, Japan is a little bit different.
When I came to Japan I thought everyone is using Google. As I did back in my country. But they don't. There are people who are still using Yahoo as their default search engine.
As a digital marketing agency, we also keep a close eye on these statistics. If you are a company that wants to target Japanese consumers it is necessary to know these data.
So let's look into the latest statistics about search engine market share in Japan.
Search Engine Market Share in Japan
Recently datareportal.com has released its newest Digital 2022 report on japan.
You can see that Google has the highest search market share in Japan. But compared to the rest of the world Google has a lower usage in Japan.
According to the Global digital report, as of January 2022, Google had a 91.42% of search engine market share. So this shows that Google still has other competitors in Japan.
If we look at the recent statistics, it is the same with social media. In Japan Facebook or Twitter doesn't own the largest market share. It is LINE.
2022 Search Engine Market in Japan
Take a look at the following list.
Google – 75.59%
Yahoo – 18.85%
Bing – 5.09%
DUCKDUCKGO – 0.24%
BAIDU – 0.11%
YANDEX – 0.05%
ECOSIA – 0.03%
Other – 0.04%
Yahoo search engine holds second place in this list.
Google vs Yahoo Search Engine Market Share Competition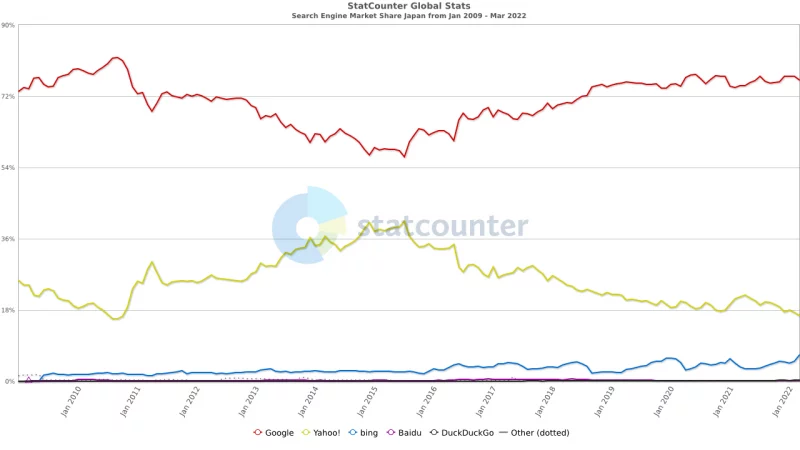 Let's look at the historical data from 2009 to January 2022.
As of March 2022, yahoo had 1.47% of the worldwide search engine market share. But in Japan, yahoo japan (yahoo.co.jp) is still popular. Yahoo's best and most popular area in the world is Japan.
If you check the above chart you can see that from 2009 to 2015, Yahoo Japan showed rapid growth. Google lost its market share continuously to Yahoo Japan.
But from 2015, Google gained its lost search engine market share. Although yahoo.co.jp has nearly 20% of the search engine market share, it is rapidly losing to Google search engine.
Yahoo vs Google in Japan. Which is more popular?
If we look at the data, Yahoo is still the most popular and most visited website in japan. According to the Semrush data, yahoo.co.jp had 1.18 billion total visits in November 2021. But in the same month, google.com had only 617 million visits.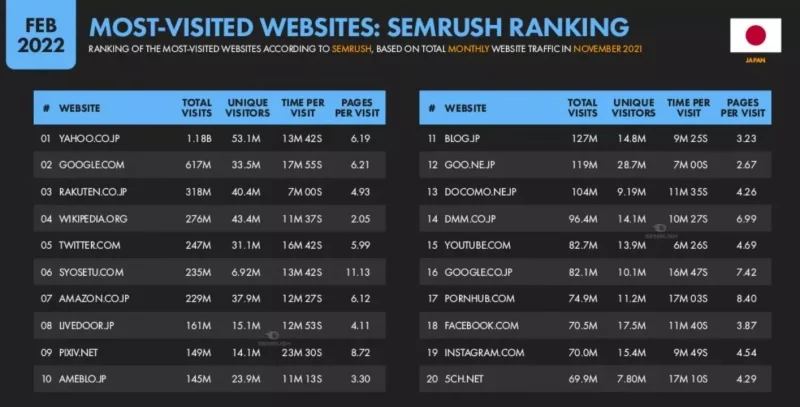 Although Google is equipped with more advanced technology and a search engine monopoly, it is a surprise that yahoo still holds the most visited website in Japan. If you are a foreigner you may wonder, is yahoo still alive? It is completely another topic we should discuss.
But for now, keep these facts in your mind. Because of the joint venture with SoftBank, Yahoo Japan managed to localize its web portal and search engine for Japan. Yahoo Japan offers many popular web services like Yahoo News, Yahoo weather, Yahoo Auction, Yahoo Finance, etc…
Summary
People usually ask questions like "What is the most popular search engine in Japan?", "Is Yahoo still alive in Japan?" or "Why Yahoo Japan is still popular?"
According to the latest statistics, the most popular search engine in japan is Google. But the most popular website in Japan is Yahoo Japan.
As per the latest data, since 2015 Yahoo search engine shows continues declining search engine market share in Japan. You need to know these facts if you want to promote your business in Japan using SEO and PPC campaigns.
Let's talk about the differences between Yahoo Japan and Google search engine in our future article.