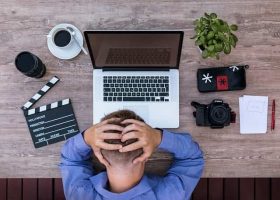 Introduction to Youtube Vlogs
A vlog is a video blog. Currently, many bloggers use handheld cameras to record videos. The most common type of vlog is the personal vlog. Because of the high popularity, there are thousands of opportunities to make a stable income through youtube channels.
There are even successful teenage vloggers who make millions of dollars by making youtube vlogs. The highest-paid youtube star "Ryan Kaji" is a teenager. In 2020 he earned 29.5 million USD.
Vlogging is a form of blogging that uses video to document daily events and thoughts. It differs from traditional blogging not only in terms of medium but also in its immediacy and intimacy which enables the viewer to connect more intimately with the person they are watching.
5 Tips to Develop Better Youtube Vlog Ideas
If you want to make a successful vlog, the first thing you need to do is come up with a good idea. It can take time and effort to find that perfect idea, but once you've found it, it will be worth it. There are many different practices that can use in your youtube marketing strategy.
I will list a few of those.
Define your target audience and what they would like to see:
Brainstorm topics: try everything from your hobby to current events;
Ask yourself: What's stopping me from doing this?;
Check out similar videos on YouTube and see what works and what doesn't;
Do some research on trends in the industry and see if there is anything that people might be into
How to Find Good Vlog Ideas?
A good video idea is something that you are passionate about and excited to share with your audience. And it's not enough to find out which idea will generate the most views, you should also make sure that this topic is relevant and interesting for your audience.
The internet offers a lot of tips on how to find good video ideas. From taking a walk in the park, going for a jog, or having conversations, there are many ways to come up with great ideas. The best thing is that these exercises force you to take a break from your busy workday and rejuvenate yourself with some fresh air and physical activity.
Think Differently
When you're thinking about a video idea for a channel, think about giving your viewers an insight into what's going on behind the scenes. If you are an expert on animals, use YouTube videos to teach people how to treat and care for different animals. And if you tell a personal story in your YouTube video you can help people who have experienced or will go through them in the future.
Summary
The reason YouTube viewing rates are skyrocketing is that consumers have stopped confining themselves to television and are beginning to consume videos in other ways on YouTube and other popular video streaming platforms.
This boom in video content has led to a flood of brands trying to dominate YouTube channel marketing.  The good news is that there are tons of ways to find YouTube Vlog ideas that your audience is looking for. Identifying your online opportunity will give you profitable results.
So Do you have any experience with vlogging? Have you ever felt out of ideas for your Youtube channel?
Let us know below by sharing your thoughts.
See you in the next blog post. Don't forget it is never too late to start. Age is just a number.
Until then, wishing you good luck!